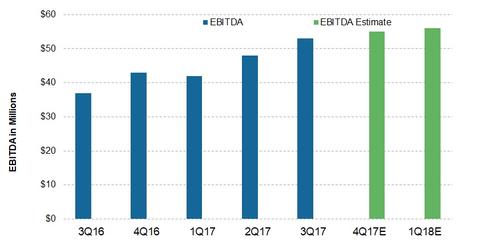 GasLog Partners' 4Q17 EBITDA: Analysts' Expectations
By Sue Goodridge

Jan. 26 2018, Updated 4:15 p.m. ET
Analysts' expectations
As we saw in the previous part of this series, Wall Street analysts expect a 30% year-over-year rise in GasLog Partners' (GLOP) 4Q17 revenues. In this part, we'll see what analysts expect for GasLog Partners' EBITDA (earnings before interest, tax, depreciation, and amortization) for 4Q17, 2017, and 2018.
Article continues below advertisement
EBITDA estimates
Since analysts estimate a rise in GasLog Partners' revenue compared to 3Q17, they also expect the EBITDA to rise. Analysts expect GasLog Partners' EBITDA to be positive for the first time in the last ten quarters. The EBITDA estimates for 4Q17 are $13.02 million—a rise from -$5.5 million in 3Q17 and a rise from -$15.8 million in 4Q16. For 1Q18, the EBITDA estimates are $35.08 million. For 2017 and 2018, the estimates are -$18.35 million and $203.3 million, respectively, compared to the EBITDA of -$68 million in 2016.
Why does the EBITDA matter?
The EBITDA is an indicator of a company's financial performance. It shows the company's operating profit. Crude oil tanker companies are capital intensive and have high non-cash costs, including depreciation. So it's important to assess a company's performance based on the EBITDA. Companies can also be valued based on their EV-to-EBITDA ratios.
EBITDA margins
GasLog Partners' EBITDA margin was 77.2% at the end of 3Q17. Based on the estimated revenues and EBITDA, we calculated GasLog Partners' estimated 4Q17 EBITDA at 73%. The 3Q17 EBITDA margins for GasLog Partners' peers are: