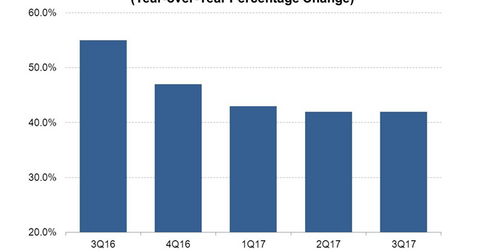 Foreign Profits: Will Amazon Take a Cue from Apple?
By Neha Gupta

Jan. 24 2018, Published 2:33 p.m. ET
Foreign profits taxed at 15.5%
Apple (AAPL), a US (SPY) multinational with more than 90% of its cash holdings stored offshore, is expected to take the opportunity of the recent tax reforms to repatriate its foreign earnings. Although estimates vary, Reuters cited Apple's foreign cash holdings at more than $250 billion.
The US lowered the tax rate on foreign profits held in the form of cash to 15.5%, from 35% previously.
Article continues below advertisement
Apple's paying $38 billion in one-time tax
As it repatriates foreign earnings, Apple said it will pay $38 billion in US taxes. It also disclosed plans to invest more than $30 billion in capex (capital expenditure) in the United States over the next five years. Apple's five-year US capex plan includes a new campus, which is believed to be along the lines of Amazon's second headquarters.
Apple is also looking to create more than 20,000 new jobs as part of its US investment plan. It already employs 84,000 workers across the United States.
Repatriation of foreign earnings is expected to bring $350 billion into the US economy in the next five years.
Amazon investing more in the United States
Amazon (AMZN) may not match Apple's anticipated economic impact of $350 billion, but the opportunity to repatriate foreign profits at a lower tax rate might encourage the company to do some of what Apple plans to do. For example, Amazon could possibly use its repatriated profits to hire more workers, spend more in US companies, and possibly set up more data centers in the United States.
Amazon could see more US data centers as a way to bolster its cloud computing competition against Microsoft (MSFT), Alphabet's (GOOGL) Google, and Oracle (ORCL). Amazon's cloud revenues under Amazon Web Services (or AWS) grew 42% year-over-year in 3Q17.