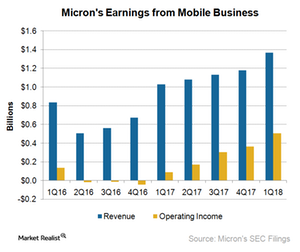 Financial Performance of Micron Technology's Mobile Business
By Puja Tayal

Updated
Micron's Mobile business
Earlier in this series, we noted that Micron Technology's (MU) fiscal 1Q18 revenues were driven by increasing demand for server, mobile, and SSD (solid-state drive) memory solutions. We also saw that the mobile market consumes a major portion of graphics cards.
This growth comes as smartphones have evolved beyond communication and online browsing to navigation, monitoring, and video calling around the globe. Now, premium handsets are featuring AI (artificial intelligence) capabilities.
Apple's (AAPL) A11 processors used in the iPhone X offer AI capabilities such as face recognition. Qualcomm's (QCOM) Snapdragon 835 processor has AI capabilities, and Samsung (SSNLF) uses Qualcomm's processors in some of its premium phones.
Micron Technology's MBU (Mobile Business Unit) comprises LPDRAM (low-power dynamic random access memory), MCP (multi-chip package), and NAND (negative AND).
Article continues below advertisement
MBU earnings
Micron Technology's MBU revenues rose 16.0% sequentially and 32.0% YoY (year-over-year) to $1.4 billion in fiscal 1Q18. Fiscal 1Q is a seasonally strong quarter for MBU, as handset makers such as Apple release their flagship phones during this quarter.
With every new device, memory content increases. In fiscal 1Q17, MBU revenues rose 53.5% as SK Hynix faced some supply issues. As a result, Apple gave more orders to Micron Technology.
MBU's non-GAAP[1. generally accepted accounting principles] operating profits rose ~470.0% YoY from $89.0 million in fiscal 1Q17 to $500.0 million in fiscal 1Q18. This trend accounts for 16.0% of the company's overall operating income. Its operating margin increased from 8.6% to 37.0%, its highest margin in more than two years.
The operating margin rose faster than revenues as DRAM prices increased. Mobile handset maker Apple reduced its gross margin by 50 basis points due to rising memory prices.
Micron's product strategy
Although Micron Technology (MU) doesn't have a strong market share in mobile DRAM, it's looking to grow in this market by diversifying its mobile memory solutions. MU has released 1X LPDRAM designs and has started sampling its 64-layer NAND discrete UFS (universal flash storage) solution.
The smartphone market is seeing a slowdown in sales. Despite this trend, the mobile market remains a strong opportunity for memory makers. We'll look into this topic in the next part.