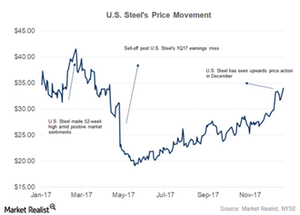 Factors that Can Reverse Cleveland-Cliffs' Trendline in 2018
US steel sector
The year 2017 has not been a great one for the US (SPY) (SPX) steel sector. After the initial euphoria from Trump trade died down, most of the steel and associated stocks experienced losses. Steel imports rose again in 2017 after cooling down in 2016.
The Trump administration initiated a Section 232 investigation into subsidized steel imports into the US, which were detrimental to the domestic steel industry. These steel imports also remained high as consumers anticipated a favorable decision on the investigation, advancing their purchases.
The deadline for the decision is mid-January 2018. US steelmakers are waiting for a favorable decision, which could give them some pricing power.
Article continues below advertisement
Price performance
Within the steel space, AK Steel (AKS) has registered the poorest performance with a loss of 44.6%. Cleveland-Cliffs (CLF) has also seen negative returns of 14.3%. After initial heavy losses following disappointing 1Q17 results, U.S. Steel (X) has recovered to end the year with an annual gain of 6.6%.
Nucor (NUE) has also seen a mild gain of 6.8%. Steel Dynamics (STLD) posted higher returns of 21.2% while ArcelorMittal (MT) registered the highest returns of 47.5%. The last couple of months have been good for these stocks, helping them recoup some of their losses.
Series overview
As we enter 2018, investors might be wondering what's in store for Cleveland-Cliffs (CLF) and its US peers. In this series, we'll look at US supply-demand indicators and their outlook for 2018.
We'll discuss the progression of US steel imports, US steel production, and demand indicators. Because Cleveland-Cliffs also has a division that has direct exposure to the seaborne iron ore market, we'll also look at the factors impacting seaborne iron ore prices. These factors include Chinese steel demand, as well as real estate and auto sector demand.