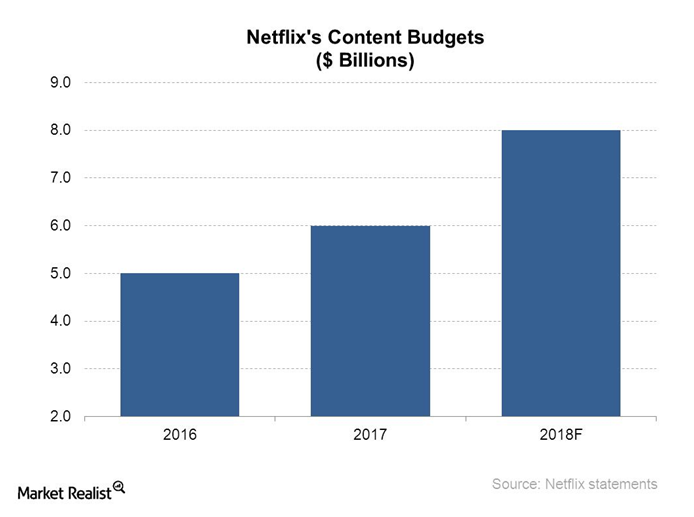 Facebook Faces Down Netflix in the Content Space
$22.2 billion in digital video ads
Facebook (FB) is set to report its first full quarter since launching its dedicated video tab—Watch. Facebook launched Watch in August, a move that marked a new high point in its digital video push and an escalation of its competition with Alphabet's (GOOGL) YouTube and Snap's (SNAP) Snapchat.
The adoption of digital video advertising continues to grow, with eMarketer predicting that digital video ad spending in the US (SPY) alone could reach $22.2 billion by 2021. US digital ad spending in 2017 is estimated to rise to $13.2 billion from ~$9.6 billion in 2016.
Article continues below advertisement
Paying $3 million per episode of video shows
As Facebook expands its video strategy in the battle for digital video ad dollars, content investment is expected to be a major part of the play. Watch videos comprise content funded by Facebook and those published by Facebook's partners.
On the funded side, a 2017 Wall Street Journal report stated that Facebook was willing to commit as much as $3.0 million per episode of broadcast-quality shows.
Netflix lining up $8 billion for content in 2018
Facebook's video push is expected to see it compete with Netflix (NFLX), Amazon (AMZN), and Apple (AAPL) for high-quality videos that can be delivered online. Although Netflix, Amazon, and Apple are not engaged in advertising like Facebook and YouTube, they have large content budgets.
In 2017, Netflix spent more than $6.0 billion on content acquisitions. In 2018, its content budget could be as high as $8.0 billion. Apple is also said to have lined up ~$1.0 billion to invest in original videos.