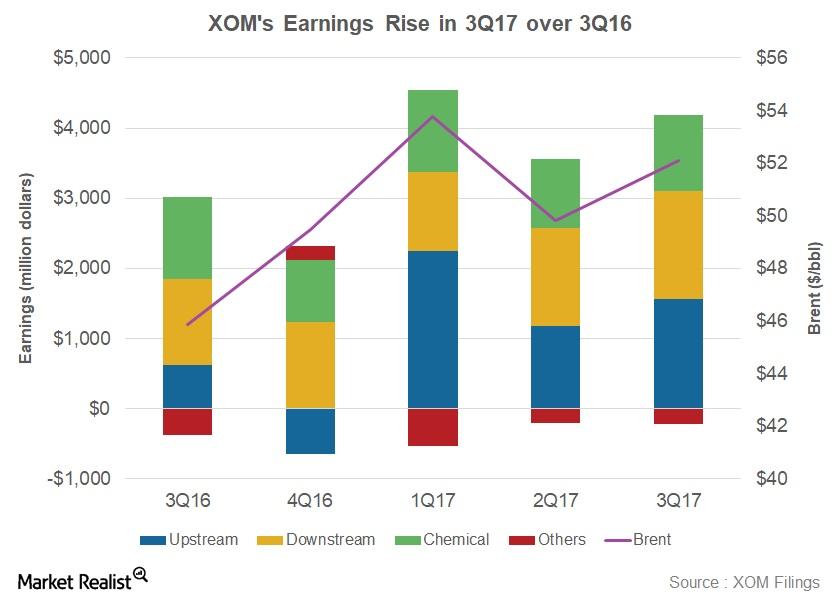 ExxonMobil's 4Q17 Outlook: A Segment-Wise Review
By Maitali Ramkumar

Dec. 4 2020, Updated 10:53 a.m. ET
XOM's segment-wise performance
Before we look at ExxonMobil's (XOM) 4Q17 segment-wise performance, let's look at how it did in 3Q17. Between 3Q16 and 3Q17, ExxonMobil's upstream earnings rose to $1.6 billion from $620 million due to a surge in crude oil prices. Brent prices rose from $46 per barrel to $52 per barrel.
ExxonMobil's downstream earnings grew due to wider margins, largely influenced by Hurricane Harvey. Between 3Q16 and 3Q17, its downstream earnings rose 25% to $1.5 billion. ExxonMobil's chemical segment's earnings fell 7% to $1.1 billion due to narrower margins. XOM's overall earnings surged from $2.7 billion in 3Q16 to $4.0 billion in 3Q17 due to higher upstream and downstream earnings.
Article continues below advertisement
Peers' segment-wise trends
Between 3Q16 and 3Q17, peer Royal Dutch Shell (RDS.A) saw its upstream adjusted earnings rise from $4 million to $562 million, and BP's (BP) upstream URC (underlying replacement cost) EBIT (earnings before interest and tax) rose from -$0.2 billion to $1.6 billion. Chevron's (CVX) upstream earnings rose from $454 million to $489 million.
ExxonMobil's 4Q17 outlook
ExxonMobil's upstream earnings are likely to rise between 4Q16 and 4Q17. WTI (West Texas Intermediate) and Brent, which averaged $49 per barrel and $51 per barrel in 4Q16, respectively, rose to $55 and $62 per barrel in 4Q17. Normally, everything else being equal, a rise in crude oil prices indicates a likely year-over-year increase in ExxonMobil's upstream earnings, assuming stable hydrocarbon volumes.
ExxonMobil's downstream earnings are also likely to be influenced by wider refining cracks. Between 4Q16 and 4Q17, the US Gulf Coast WTI 3-2-1 crack—the broader market crack indicator—expanded by 37% to $18 per barrel.