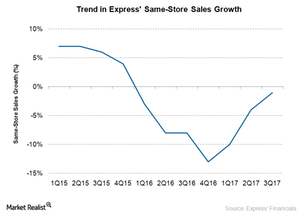 Why Express's Holiday Sales Failed to Impress
By Victoria Dean

Nov. 20 2020, Updated 5:33 p.m. ET
Dismal holiday season
On January 9, 2018, Express (EXPR) reported that its holiday season sales performance had not been as expected, and subsequently, the company slashed its fiscal 4Q17 outlook, causing the stock to plummet 20%.
Express stated that store sales (primarily dress and sweater categories) were marred by lower traffic during the crucial weeks leading to Christmas. This low traffic offset the encouraging start witnessed at the beginning of the holiday season (from November to early December). However, the company stated that things started to look better in January. On the other hand, Express added that online sales year-to-date remained robust with double-digit increases YoY (year-over-year).
Article continues below advertisement
Updated outlook
For fiscal 4Q17, Express now expects comps (comparable store sales) to be down in the range of 1% to 2% compared with expectations of growth in the low-single digits earlier. EPS (earnings per share) are expected to be in the bracket of $0.31 to $0.33 compared with the earlier projected range of $0.40 to $0.44.
For fiscal 2017, comps are likely to be down 4% in tandem with an earlier projection of a decline in low single digits. EPS is projected to be around $0.18 to $0.20 compared with the previously estimated range of $0.28 to $0.32. The adjusted EPS range also fell lower to $0.33 to $0.35, much below the earlier estimated range of $0.43 to $0.47.
A glance at other retailers' holiday comps data
On January 9, 2018, Target (TGT) was up ~3% after reporting 3.4% growth in comps for the November and December period. The company also upped its fiscal 4Q17 EPS guidance.
In contrast, Urban Outfitters (URBN) fell over 4% after posting a 2% increase in comps for the two months ended December 31, 2017. American Eagle Outfitters (AEO) was also down 3.2% after the company reiterated guidance for fiscal 4Q17, especially after reporting an 8% increase in comps to date for fiscal 4Q17 on January 9, 2018.
In the next series, we'll discuss Express's e-commerce and omnichannel efforts to boost sales.