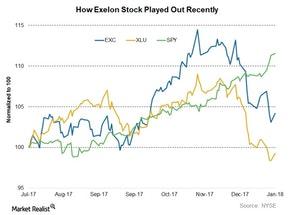 Exelon Offers a Decent Potential Upside from Here
Exelon Corporation
The stock of Exelon Corporation (EXC), the largest hybrid utility and the largest utility by revenue, has a mean price target of $43.2, implying a potential upside of 12% over the next 12 months. EXC is currently trading at $38.6.
On January 9, 2018, among the 17 analysts tracking Exelon, eight recommended it as a "buy," five recommended it as a "strong buy," two recommended it as a "sell," and another two recommended it as a "hold."
SunTrust Robinson Humphrey cut Exelon's price target from $45.0 to $42.0 on January 8, 2018.
Article continues below advertisement
Valuation
Exelon stock seems to have a discounted valuation relative to its peers. It's currently trading at an EV-to-EBITDA (enterprise value to earnings before interest, tax, depreciation, and amortization) multiple of 7.7x. Exelon's five-year historical valuation is close to 8.0x. It's trading at a noteworthy discount compared to the industry average of 11.0x. Exelon is one of the few large-cap S&P 500 Utilities stocks (XLU) that are presently trading at a discounted valuation.
Exelon's PE (price-to-earnings) multiple currently stands at 17.3x, higher than utilities' (XLU) average PE of 16x.
Exelon stock has been on downtrend similar to that of broader utilities (IDU). In the last month, Exelon has corrected by more than 8%. However, it should be noted that lower taxes could be a bit more beneficial for Exelon than for its regulated counterparts considering its large competitive operations.
The third-largest US utility, Dominion Energy (D), recently announced its agreement to buy the troubled SCANA Corporation (SCG). Dominion struck the right balance for a deal while acquiring a strategic fit for itself and at the same time, saving SCANA's ratepayers from higher power bills. Read First Big Deal of the Year: Dominion Energy to Buy SCANA to learn more.