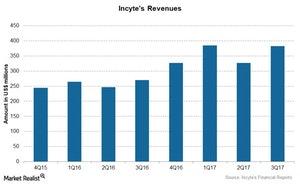 Examining Incyte's Quarterly Revenue Trend
By Mike Benson

Jan. 9 2018, Published 10:23 a.m. ET
Incyte's revenue
As we discussed earlier, Incyte (INCY) is a biopharmaceutical company focused on the discovery, development, and commercialization of oncology drugs. The company's consolidated revenue rose ~41.6% to $381.5 million in 3Q17 compared to $269.5 million in 3Q16.
In 3Q17, the company reported a net income of $36.1 million compared to its net income of $36.9 million in 3Q16.
The above chart compares Incyte's revenues over the last few quarters. Analysts expect Incyte to report revenue of $413.8 million in 4Q17. We'll discuss a revenue breakup and other details, including the company's royalty revenue and contract revenue, later in the series.
Article continues below advertisement
Product portfolio
The products in Incyte's portfolio include Iclusig, Jakafi/Jakavi, and Olumiant. Incyte's revenue sources include revenue from Iclusig (ponatinib) sales in European markets, Jakafi (ruxolitinib) sales in US markets, and royalties from Jakavi (ruxolitinib) and Olumiant (baricitinib) sales.
Iclusig
Iclusig (ponatinib) is a drug for the treatment of chronic myeloid leukemia and Philadelphia-chromosome positive acute lymphoblastic leukemia in patients who aren't responsive to other tyrosine kinase inhibitors.
In June 2016, Incyte acquired the exclusive licensing for Iclusig from Ariad Pharmaceuticals for the drug's development and commercialization in Europe and other selected countries. In 3Q17, Iclusig sales were $18.1 million compared to $12.7 million in 3Q16.
Article continues below advertisement
Jakafi/Jakavi
Jakafi (ruxolitinib) is a drug for the treatment of rare types of blood cancer such as polycythemia vera and myelofibrosis. Incyte holds the rights for the commercialization of Jakafi in US markets, while Novartis (NVS) has acquired the rights for Jakafi for sale outside US markets, where the drug is marketed as Jakavi. In 3Q17, Jakafi's net revenue was $303.9 million compared to $223.9 million in 3Q16.
Olumiant
Olumiant (baricitinib) is a once-daily JAK inhibitor for active rheumatoid arthritis. Eli Lilly and Company (LLY) holds the development and commercialization rights for Olumiant (baricitinib) across the globe. Incyte received royalties of $3.2 million from Eli Lilly for Olumiant sales in 3Q17.
The Vanguard Health Care ETF (VHT) holds 0.5% of its total investments in Incyte, 2.3% in Eli Lilly, 2.8% in Bristol-Myers Squibb (BMY), and 4.1% in Merck & Co. (MRK).