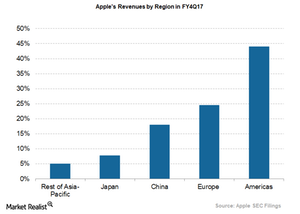 Why the EU Is Claiming $15.3 Billion in Unpaid Taxes from Apple
By Sophia Nicholson

Updated
EU is claiming $15.0 billion from Apple
The European Union (EZU) has ordered US (SPY) giant Apple (AAPL) to pay ~$15.3 billion in unpaid taxes after the European Commission (or EC) ruled in 2016 that Apple's tax deal with Ireland was contrary to EU law.
Article continues below advertisement
Views on the Apple tax case
Apple formed a subsidiary, Apple Sales International (or ASI), in Ireland in 1991. ASI recorded all the profits generated in Europe (EFA), the Middle East, Africa, and India. About 24.0% of Apple's total revenues came from Europe in fiscal 4Q17,[1. fiscal 4Q17 ended September 2017] whereas Japan (EWJ) contributed 7.7% of the market in the quarter.
After an investigation, the EC determined that Apple, in accordance with the tax agreement with Ireland, had effectively paid annual taxes of 1.0% on its European profits in 2003 and ~0.005% in 2014. These tax rates were far lower than the already low corporate tax rate of 12.5% in Ireland. Ireland has one of the lowest tax rates in the region in comparison to other EU member states, which levy tax rates in excess of 16.0%.
Ireland disagrees with the EU
It seems that the Irish government agreed to the tax deal to attract investments from multinational companies that operate in the country. The EU claimed that this practice could be unfair to other companies operating in Ireland that pay taxes and post lower profits than Apple.
The Irish government seems to oppose the EU's analysis and has lodged an application in the EU's General Court against the European Commission. This appeal claimed that the country failed to collect taxes from Apple.
Apple is also challenging the European Commission's ruling. According to Apple, the company has always paid its taxes to the US and Irish governments and has complied with their laws. Apple agreed to deposit the disputed tax amount in an escrow account until the matter is resolved.