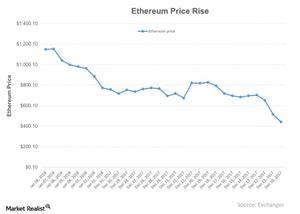 Why Ethereum Survived Blue Monday: Some Market Insights
By Meera Shawn

Jan. 9 2018, Published 9:53 a.m. ET
Survival for Ethereum
Ethereum prices have risen 6.6% in the past 24 hours despite the losses for other competitor cryptocurrencies. Ethereum touched a high of $1,266.90 on Monday, January 8, 2018, and was trading at $1,219.60 as of 7:30 AM EST on Tuesday, January 9, 2018. Its market capitalization has increased to $115 billion, and its trading volume was $7.3 billion.
The cryptocurrency was spared from the so-called Blue Monday due to its co-creator Steven Nerayoff mentioning that Ethereum could almost triple its price in 2018. That could be due to a large number of industries that are starting to notice the value Ethereum's protocol could provide and its ability to process transactions faster and more cheaply than other competitive cryptocurrencies.
Article continues below advertisement
No ban in South Korea
Looking at the global appeal of cryptocurrencies, the market was flooded with news that cryptocurrency trading would be banned in South Korea. Although that wasn't true, it led to a fall in the price of most cryptocurrencies. South Korea is not banning the exchanges or cryptocurrency trading but will be merely disabling any anonymous accounts on their cryptocurrency exchanges.
The SEC (U.S. Securities and Exchange Commission) has currently halted the trading of Hong Kong–based UBI Blockchain stock. A spokesperson said the company is under scrutiny since questions about its recent public filings and market activity around the stock are being raised. Its share price has increased more than 2,000% in the past year. There are chances that other blockchain companies (SPX-INDEX) could also be under observation.