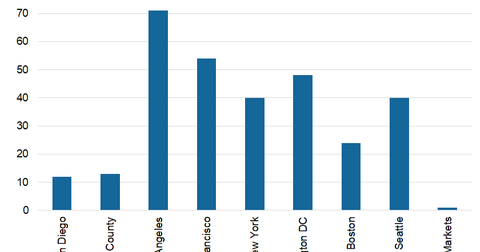 Equity Residential's Strategic Properties Give It an Edge
By Raina Brown

Updated
Widespread properties
Equity Residential (EQR) has properties in Southern California, San Francisco, New York, Washington DC, Boston, and Seattle. Its strategic locations in Class A cities give it an upper hand among its competitors. EQR constitutes 2.6% of the Vanguard REIT ETF (VNQ).
Article continues below advertisement
New York
This city continues to outperform EQR's expectations and has an occupancy rate of 96.9%. Year-to-date revenues grew by ten basis points. Advertising costs were down 39% for 3Q17. However, the company faces risks of high supply of properties and relatively slower job growth. AvalonBay Communities (AVB), one of EQR's peers, also has properties in New York.
Boston
Occupancy increased by 30 basis points quarter-over-quarter. Renewal growth was 5.2%, while the retention rate improved by 130 basis points. The announcements by Facebook (FB) and Bristol-Myers Squibb (BMY) in regards to office space leases are increasing demand and could help in exponential growth in the future.
Article continues below advertisement
Seattle
Seattle is the top-performing market for EQR with a growth rate of 10.4%, and the new lease rate increased by 2.6%, much lower than the growth rate. On the other hand, occupancy was at 95.7%, the same as in 2016. The growth rate and lease rate along with stable occupancy signal an increase in price levels. Announcements from Amazon (AMZN) and related entities could help in creating a more diversified economy in Seattle.
San Francisco
Revenue growth was at 1.6% as deliveries touched their lowest levels in the last seven quarters and job growth remained stable. Moreover, the rental rate downfall experienced in 2016 didn't see a rebound.
Article continues below advertisement
Southern California
An increase in supply dragged down the new lease rent in Pasadena. On one hand, lack of supply helped West LA produce good results. The renewal rate was up 5.9%, retention increased by 100 basis points, and occupancy improved by 30 basis points. Camden Property (CPT) and Essex Property (ESS) also have properties in this region.
Washington DC
In line with 2Q17, the company's Washington DC region is failing continuously to meet the company's expectations. Low job opportunities and weak government policy continue to affect its growth. Renewal growth was 3.8%, while new lease pricing was -2.6%.
The company's average rental incomes by market are as follows:
Southern California: $2,455
San Francisco: $3,086
New York: $3,757
Washington DC: $2,388
Boston: $2,986
Seattle: $2,345
Other markets: $1,155