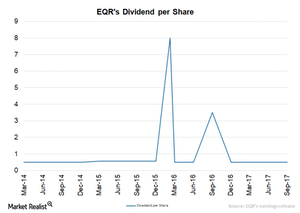 How Is Equity Residential Rewarding Its Investors?
EQR's dividend policy
EQR announced a quarterly dividend of $0.50. The current dividend yield stands at 3.2%, and it has a payout ratio of 135.2% for 3Q17. The three-year dividend growth rate has been -2.1%, while the five-year growth rate is at 5.0%.
Article continues below advertisement
High payout ratios and lower earnings
The average dividend payout ratio among its peers is 143%, and the average dividend yield is 3.2%. The payout ratio is expected to increase to 153.5%. On the other hand, EPS is expected to fall. Currently, the EPS is at $0.37, and the expected EPS for 4Q17 is $0.35. The lower dividend yield and higher payout ratio with decreasing EPS suggest that EQR cannot sustain such high payouts. The fall in earnings doesn't support the increase in payouts. The company indicated that it may repurchase up to 13.0 million shares under its repurchase program.
Unstable dividends
If dividends are the key criteria for an investor, then it's important to consider the reliability and stability of dividends the company has been paying over the years.
Dividends for EQR haven't been consistent over the last five years. It paid a dividend of $1.85 in 2013, $2 in 2014, $2.21 in 2015, and $13.01 in 2016. Although the yearly dividends are increasing, there have been some hiccups. Dividends have been reduced over the last five years. Also, considering its peers, its dividend yield of 3.2% is low.
AvalonBay Communities (AVB) has a dividend yield of 3.2%, while Camden Property (CPT) and Essex Property (ESS) have dividend yields of 3.3% and 2.9%, respectively.
Equity Residential and its peers make up almost ~13.3% of the Vanguard REIT ETF (VNQ). It has a large portfolio and covers a variety of industries like healthcare and self storage.