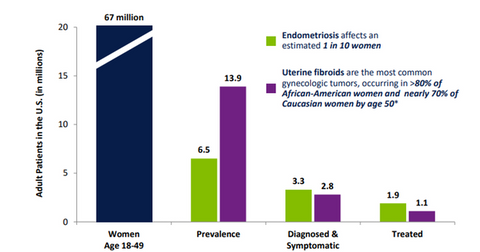 Elagolix May Advance the Treatment Paradigm in Women's Health
By Margaret Patrick

Jan. 11 2018, Published 10:17 a.m. ET
Elagolix priority review
On October 27, 2017, AbbVie (ABBV) announced that the New Drug Application (or NDA) for its investigational drug Elagolix, which is used for managing endometriosis-related pain, had been granted priority review by the FDA.
AbbVie has developed Elagolix in collaboration with Neurocrine Biosciences (NBIX). AbbVie expects this oral gonadotropin-releasing hormone (or GnRH) antagonist to be approved by its Prescription Drug User Fee Act (or PDUFA) date in 2Q18.
The diagram above shows the scale of opportunity for Elagolix in the endometriosis and uterine fibroid segment in greater detail. Elagolix is expected to enable AbbVie to compete effectively with other women's health players such as Teva Pharmaceutical (TEVA) and Perrigo (PRGO).
Article continues below advertisement
Elagolix's growth opportunity
Despite the high prevalence of endometriosis and uterine fibroids, there have been very limited treatment options—including pain medications, contraceptives, and laproscopic surgery—available for this condition.
More than 3 million women who are diagnosed with endometriosis continue to suffer pain even after being treated with existing treatment options. Additionally, more than 3 million women suffering from uterine fibroids require long-term therapy with limited side effects related to bone health, fertility, endometrial health, and overall uterine health.
In this context, Elagolix could emerge as a convenient oral therapy capable of reducing endometriosis pain as well as uterine fibroid–related heavy bleeding. The drug is expected to offer an enhanced risk-benefit profile and result in minimal side effects related to bone health as well as hypoestrogenemia.
Given its potential to significantly improve quality of life, Elagolix is expected to fetch more than $2.0 billion in annual revenue by 2025. However, AbbVie believes that it will have to invest in creating awareness among physicians and patients to drive the adoption of this drug. The company plans to do so in 2018.
AbbVie accounts for 4.9% of the Health Care Select Sector SPDR ETF's (XLV) total portfolio holdings.
In the next article, we'll discuss AbbVie's growth prospects in the virology segment in greater detail.