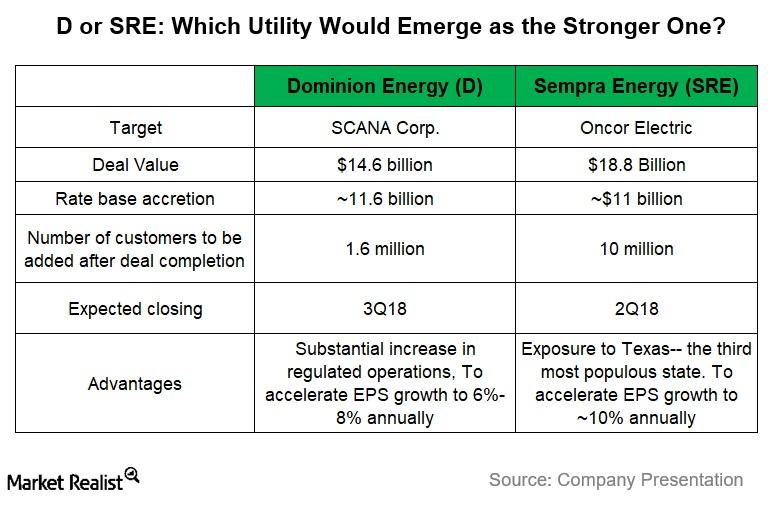 Dominion Energy or Sempra Energy: Which Could Be Stronger?
SCANA and Oncor smart catches
Dominion Energy (D) announced its agreement to buy SCANA (SCG) on January 3, 2017. The deal is expected to accelerate Dominion Energy's earnings growth going forward, which differentiates it from many of its top peers.
There was a similar deal last year when Sempra Energy (SRE) acquired Texas-based Oncor. Sempra Energy's $18.8 billion bid to buy Oncor outweighed Berkshire Hathaway's bid.
Dominion Energy and Sempra Energy differ in size and operating territories. Both of them have struck a handsome deal by acquiring strong target entities. Shareholders will start reaping the benefits from the acquisitions in 2H18. Which one of them would emerge stronger?
Article continues below advertisement
Stronger earnings growth
Dominion Energy and Sempra Energy are already among the fastest growing S&P 500 Utilities (XLU). After completing their respective deals, Dominion Energy expects its annual earnings per share to grow ~6%–8%, while Sempra Energy is expected to grow ~10% annually for the next few years. The industry's average earnings growth is ~5% annually.
However, both of the deals are expected to increase acquirers' long-term debt. Moody's changed Sempra Energy's outlook to negative last month due to the additional debt burden to buy Oncor. Moody's also changed Dominion Energy's rating outlook to "negative" given the regulatory risks after its agreement to buy SCANA.
US utility stocks have been trading weak since the Senate voted for tax reforms in December 2017. Since then, the Utilities Select Sector SPDR ETF (XLU) has fallen nearly 10%—the most in the past year. Broader markets (SPX-INDEX) (SPY) continued to climb during the same period.
Next, we'll discuss how Sempra Energy and Dominion Energy fared recently.