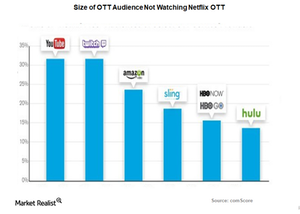 How Dish Network Boosts Its Integrated Advertising Business
By Sophia Nicholson

Jan. 24 2018, Updated 2:00 p.m. ET
Sling TV partners with comScore
DISH Network's (DISH) Internet TV streaming service, Sling TV, has partnered with comScore. This partnership would offer advertisers a single metric to calculate the efficiency of addressable advertising campaigns across its traditional pay-TV service.
Under the partnership, comScore plans to offer cross-platform addressable advertising measurement services for DISH Network's campaigns that will add to the live over-the-top (or OTT) service and DISH set-top box impressions.
Article continues below advertisement
Cross-platform advertising on TV
Cross-platform advertising enables brands to reach DISH and Sling TV viewers with live and video-on-demand content with accuracy across any device. Leading ad agencies and brands have been using comScore's linear TV addressable advertising measurement for more than five years.
The new partnership is expected to extend the analysis of addressable campaign delivery across all platforms, including connected TV, mobile, desktop, and traditional TV. According to comScore, addressable advertising on TV is expected to grow more than 60.0% in 2018 to $1.3 billion.
Growing trend in the Internet TV streaming space
The Sling TV move is in sync with the latest trend in the pay-TV industry, in which TV operators like DISH are trying to make the most of the Internet TV streaming services. The growing consumer interest in using the Internet to watch videos has forced TV distributors and programmers to provide online TV offerings in the market.
Competition intensifies in the OTT TV market
The growing demand for Internet TV streaming services, launched by leading pay-TV operators in the United States, is also witnessing intense competition. Netflix (NFLX) and Amazon (AMZN) are the two leading Internet TV streaming service providers, with more than 100 million subscribers and 60 million Prime TV customers, respectively.
Major pay-TV operators such as AT&T (T), DISH Network, and Sony have already launched Internet TV streaming services. Apart from these three companies, YouTube TV (GOOGL) and Hulu Live TV also offer Internet TV streaming facilities.