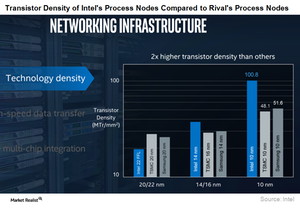 What Developments Could Intel Bring into PC Space in 2018?
By Puja Tayal

Updated
Intel's developments in PC space
Intel (INTC) could start reaping the benefits of its efforts in new markets in 2018. Other than the new markets, it could continue to grow in its dominant market of PC (personal computer) as well. 2018 could see the launch of the long-awaited 10-nm (nanometer) node, which would make Intel the leading manufacturing technology provider and bring significant performance improvements.
Although Intel demonstrated the performance of the 10-nm Cannon Lake desktop at the CES (Consumer Electronics Show) 2017, no information was revealed about the 10-nm node. In fact, Intel launched its eighth generation Coffee Lake processors on the 14-nm node later in 2017.
However, things could be different at the CES 2018, as Intel has already unveiled the specifications of its 10-nm technology at IEDM 2017 (IEEE International Electron Devices Meeting) in December 2017. So Intel might showcase the 10-nm chip with its full performance potential at the CES 2018.
Article continues below advertisement
PC processors 
Intel has changed its product roadmap significantly as the transition to smaller node becomes lengthier. As per Intel's original plan, it stops making products on older nodes when it completes the transition to a new node. However, 2018 might see two nodes coexist.
Intel plans to launch a refresh of its Coffee Lake processors in early 2018 and maybe Cascade Lake in 2H18 both built on the refreshed 14-nm node. It also aims to launch the complete suite of Coffee Lake processors in 2018, which could present strong competition to Advanced Micro Devices' (AMD) Ryzen CPUs (central processing units).
In late 2018, Intel might launch its ninth generation Cannon Lake or Ice Lake CPUs on the 10-nm node. They would coexist alongside 14-nm Coffee Lake CPUs. If the company further delays the launch of its 10-nm node, it might lose its technological advantage to other foundries that plan to launch 7-nm and 5-nm nodes in 2018 and 2019, respectively.
Article continues below advertisement
Hybrid chip
Apart from Coffee Lake cores, Intel might also showcase its hybrid processors for gaming laptops that would integrate AMD's GPU (graphics processing unit) and its iCore CPU at the CES 2018. Intel might also unveil other processors that would integrate AMD's GPU such as enterprise desktop.
Intel's AI innovations
2017 saw the launch of Intel's AI chips such as the Nervana Neural Network Processor, the Myriad X, and the Stratix 10 FPGA (field programmable gate array). Intel might make its entry in the discrete GPU market in the coming years with AMD's former GPU head Raja Koduri heading this area.
Intel stated that Raja Koduri would be heading the newly created Core and Visual Computing Group, which would create high-end graphics cards for visual and edge computing. The company did not reveal details about the applications it is targeting, but there is a possibility that it might give some clarity about the new group's end goals at the CES 2018.