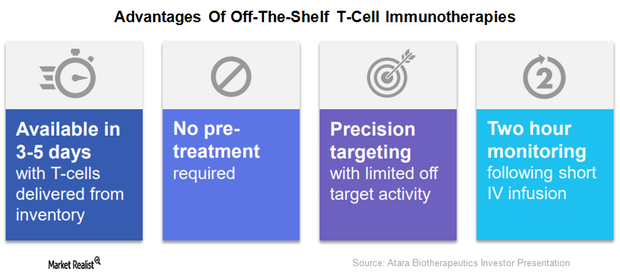 A Deeper Look at Atara Biotherapeutics' ATA129, ATA520, and ATA230
By Kenneth Smith

Feb. 1 2018, Updated 7:34 a.m. ET
ATA129 for nasopharyngeal carcinoma
In April 2017, Atara Biotherapeutics (ATRA) entered into an agreement with Merck (MRK) to evaluate ATA129 in combination with Merck's Keytruda in patients with recurrent Epstein-Barr Virus (or EBV) associated NPC.
These phase-1 and phase-2 trials will evaluate the safety, pharmacokinetics, and pharmacodynamics of the combination. The trials are expected to begin in 2018.
Article continues below advertisement
ATA520 for Hematologic Malignancies
Atara Biotherapeutics' third T-cell candidate, the ATA520, targets cancers that express the antigen Wilms tumor-1 (or WT1) and is currently in a phase-1 clinical trial. Currently, Memorial Sloan Kettering Center (or MSK) has undertaken two phase-1 clinical trials for evaluating Atara's ATA520.
Both of these trials are dose escalation trials. The first trial of Atara's ATA520 is for residual leukemia after allogeneic hematopoietic cell transplant (or HCT), and the second trial is for patients with relapsed multiple myeloma (or MM), including plasma cell leukemia (or PCL).
ATA230 for CMV Viremia
Atara Biotherapeutics' fourth T-cell product candidate ATA230 is a third-party-derived cytomegalovirus (or CMV). Allogeneic cytotoxic T-lymphocyte (or CTL) is in a phase-2 clinical trial for refractory CMV infection that occurs in some patients whose immunity has been compromised.
Notably, the FDA (US Food and Drug Administration) granted Atara's ATA230 an orphan drug designation for the treatment of CMV viremia and disease in patients with compromised immunity as well as a rare disease designation for treating congenital CMV infections. EMA has also granted an orphan status for Atara's ATA230 for CMV infection in patients with impaired cell-mediated immunity.
Atara is prioritizing its EBV-related programs ahead of its ATA230.The company plans to further evaluate the ATA230 phase-3 trial design after the initiation of its ATA129 phase-3 trials.
Competing drugs under development
Peers in the process of developing drug candidates for CMV infection and associated diseases include Shire (SHPG), which has started the phase-3 clinical trial of its drug candidate Maribavir, and Vical (VICL), which is conducting a phase-3 clinical trial for evaluating its ASP0113 in patients undergoing an allogenic stem cell transplant.
Notably, Atara Biotherapeutics makes up about 0.09% of the iShares Russell 2000 Value ETF's (IWN) total portfolio holdings.
In the next part of this series, we'll take a look at Atara Biotherapeutics' agreement with QIMR Berghofer.