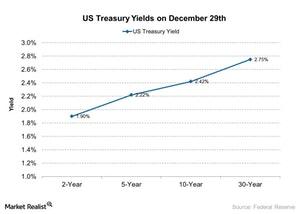 David Tepper Discussed the Equity and Bond Market
By Sarah Sands

Updated
David Tepper on the equity and bond market
Previously in this series, we saw that David Tepper is optimistic about the tax reform. It could push the S&P 500 Index (SPX-INDEX) (SPY) higher in the near future.
Tepper also thinks that the bond market's (BND) performance is a good indicator to analyze the equity market's (QQQ) performance. He said, "The market can't go down until the bond market gets hit. It's amazing where interest rates are."
Fed's gradual rate hike and the bond market
Although the Fed started its gradual rate hike process in December 2015, the interest rate in the economy remained too low. The gradual rise in the interest rate also helps the bond yield move higher. The bond yield has an inverse relationship with bond prices. According to Tepper, if the bond market in the economy loses investors' confidence and it isn't able to provide a satisfactory return, investors' confidence in the economy will decline.
If the bond market gets worse, it could also impact the equity market's performance. However, Tepper's confident about the equity market's future movement. The gradual rate hike also indicates that the US economy (IWM) (COMP-INDEX) is moving at a stronger pace.
To learn more, read Market Volatility: Analyzing 2017 and 2018.