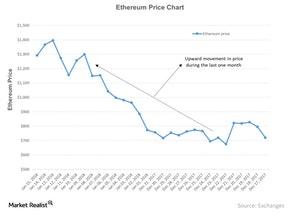 Cryptocurrency Market Cap: Details on Ethereum and Ripple
By Meera Shawn

Updated
Market cap diminished
About $200 billion was wiped off the total market capitalization of the cryptocurrency market due to the recent fall in cryptocurrency prices. The total market capitalization of every digital coin stood at $653.8 billion as of the early morning hours on Tuesday, January 16, 2018. By the evening, the market cap was close to $450 billion.
Etherum, the second-largest cryptocurrency, was trading at $907.30, a fall of 4% during the past week. Its market cap was $88 billion. The chart below depicts the price changes in Ethereum over the past few months. Ripple was trading at $1.08, a fall of 63% from its record high of $3.84.
Article continues below advertisement
Concerns in China and South Korea
The sharp sell-off in these cryptocurrencies was sparked by worries in Asia and a sharp sell-off over tighter regulation in the critical markets of South Korea (EWY) and China (FXI). The ministry in South Korea was preparing a bill that would ban trading through some cryptocurrency exchanges, and the Chinese central bank urged authorities to ban the centralized trading of digital currencies.
In some parts of Europe, there is an emergence of the need for further regulations for cryptocurrencies. Deutsche Bundesbank director Joachim Wuermeling believes that borderless cryptocurrencies are often difficult to regulate and that there should be harmonizing of rules on a global basis.
Bitcoin futures (SPX-INDEX) have fallen about 20% due to the sudden slump in the underlying cryptocurrency. The CBOE (Chicago Board Options Exchange) has its first contract expiration next Wednesday, while the CME contract expires on January 26, 2018. Investors will be watching the contract expiration closely and could then consider whether to roll over or not, given the slump in the market.