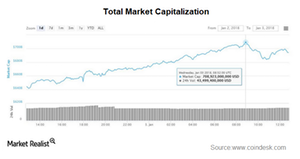 Cryptocurrency Market over $700 Billion: What's Next?
By Meera Shawn

Updated
Crypto market over $700 billion
While Bitcoin recovered from its losses as the new year progresses, it has a market cap of $250 billion. Although Altcoins are slowly getting strong, there's still a remarkable coverage that they need to do. Overall, the cryptocurrency markets reached a market capitalization of $700 billion. Altcoins account for almost two-thirds of the crypto market cap, which shrinks Bitcoin's market share to ~36%.
At 7:00 AM EST on January 4, 2018, Bitcoin was trading at $14,982. If we look at its performance in the past 24 hours, it's almost flat. However, it touched a high of $15,504 on January 3. It had volatility of ~123% on the day, while the relative strength index was at 52.
The other two top cryptos, the Ripple and Ethereum were at $3.76 and $984.6 at 7:00 AM EST on January 4. They have a market capitalization of $145 billion and $95 billion, respectively.
Article continues below advertisement
Ripple extends gain
According to a market cap, the Ripple is number two. It surpassed the $100 billion mark due to optimism in the market. It has risen ~38% in the past day.
The launch of the Ripple Hedge Fund (SPX-INDEX) (QQQ) or the Arrington XRP Capital by TechCrunch founder Michael Arrington could also be a reason behind the price increase.
Bitcoin Cash continued to stay in the fourth position in the cryptocurrency market and was trading at $2,422. While Cardano, NEM, and Stellar rose 30%, 49.6%, and 14.8%, respectively, in terms of market cap in the past day. Their trading price is $1.26, $1.89, and $0.85, respectively.