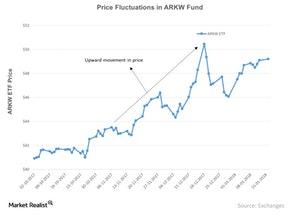 Cryptocurrencies, Initial Coin Offerings: The Downward Movement
By Meera Shawn

Updated
They all fall down
Cryptocurrencies have witnessed another down day with only a handful of them rising. The rest are all are headed downward. The big brother of digital currencies, Bitcoin, has fallen 16.7% in the last day, trading at $10,116 as of 7:00 AM EST on January 17, 2018. Ethereum and Ripple fell 20.7% and 26.6%, respectively.
The Ark Web x.0 ETF (ARKW), which is known to track the price of cryptocurrencies, was trading at $49.20 on January 16, 2018.
Article continues below advertisement
Top losers and gainers
Among the top losers during the past day are NEM, Gas, NEO, and Augur, falling 32.4%, 31.1%, 30.2%, and 29.2%, respectively. Among the few cryptocurrencies that gained were Neblio, Nexus, Quantstamp, SmartCash, and Tether, rising 45.5%, 9.6%, 7.3%, 2.4%, and 0.57%, respectively.
It was the year for big technology players to enter the blockchain market in 2017. In addition to Microsoft (MSFT) and International Business Machines (IBM), Oracle (ORCL) also announced during the last quarter of 2017 that it would start a new cloud-based blockchain-as-a-service offering. With such huge companies rubbing the surface of blockchain, it could be considered positive news.
ICO market
It is widely expected that the pace of ICOs (initial coin offerings) could speed up significantly, overtaking the venture capital funding size. The chair of the European Securities and Markets Authority, Steven Maijoor, said that buying into an ICO could lead to a total loss of an investment for market participants. He said, "You don't have the regular protection that regulated investments offer, and can lose all of your investments." For more details, you can visit European Regulator Warns: Investors Could Lose Everything Betting on New Cryptocurrencies.