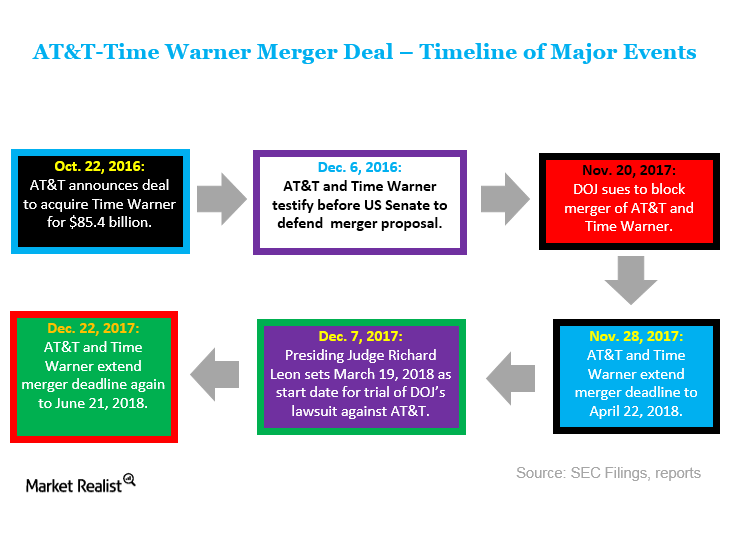 Court Order Is Reminiscent of AT&T's Remark on DOJ's Lawsuit
By Ruchi Gupta

Jan. 29 2018, Updated 7:32 a.m. ET
AT&T deems DOJ's lawsuit meritless
AT&T (T) is still trying to save a merger deal that would have been closed long ago. AT&T met regulatory resistance from the US (SPY) government over its proposed acquisition of Time Warner (TWX) for $85.4 billion.
The United States Department of Justice (or DOJ) sued to block AT&T from acquiring Time Warner in November, claiming that the merger would harm industry competition and subsequently lead to higher subscription prices for US pay-TV consumers.
After learning about the DOJ's lawsuit to block it from acquiring Time Warner, AT&T hit back, saying that the DOJ was pursuing a path that represented a radical departure from years of antitrust precedent. Then AT&T went on to somewhat call the government's bluff.
"Fortunately, the Department of Justice [or DOJ] doesn't have the final say in this matter. Rather, it bears the burden of proving to the U.S. District Court that the transaction violates the law," AT&T's top lawyer David McAtee said in a statement.
Article continues below advertisement
DOJ ordered to hand over crucial data
On January 22, the judge hearing the DOJ's lawsuit against AT&T ordered the government to obtain and make available crucial data that AT&T has long held that would prove its acquisition of Time Warner wouldn't pose threat to the competition.
AT&T and Time Warner are seeking pricing data from their rivals to use in the DOJ's lawsuit to show that past mergers such as the one they are trying to put together didn't lead to higher prices for pay-TV distributors or consumers. The DOJ's lawsuit is largely based on fears that allowing AT&T and Time Warner to combine will drive up content prices.
Burden of proof
AT&T and Time Warner asked for pricing data from companies such as the Walt Disney Company (DIS), Viacom, and Comcast (CMCSA) to help them prove that the DOJ's position on their proposed merger is wrong.
The development in which the DOJ has been ordered to release crucial data is reminiscent of AT&T's remark that the DOJ bears the burden of proving that the transaction violates the law.