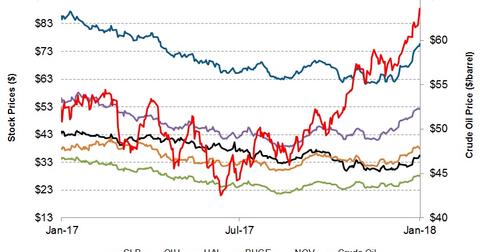 Comparing 1-Year Returns: SLB, HAL, BHGE, and NOV
By Alex Chamberlin

Jan. 17 2018, Published 5:29 p.m. ET
Four oilfield service giants
Schlumberger (SLB), Halliburton (HAL), Baker Hughes, a GE company (BHGE), and National Oilwell Varco (NOV) are four large market cap US OFS (oilfield equipment and services) companies. In this series, we'll look at these OFS companies' performances in 9M17 compared to 9M16 before the 4Q17 and fiscal 2017 earnings.
Article continues below advertisement
What's happening in the market and industry?
Since January 12, 2017, the VanEck Vectors Oil Services ETF (OIH) has decreased ~19% until January 11, 2018. The West Texas Intermediate crude oil price recovered 22% during the same period. So, OIH has grossly underperformed crude oil price's recovery. The OFS industry remains under pressure due to a lack of pricing power for their offerings. Read Is the Crude Oil Price Rally Sustainable in 2018? to learn more. Since January 12, 2017, the SPDR S&P 500 ETF (SPY) has increased 21%. The Dow Jones Industrial Average (DJIA-INDEX) increased 27% in the past one year until January 11, 2018.
Analyzing one-year returns
Halliburton has outperformed the VanEck Vectors Oil Services ETF in the past year. Since January 12, 2017, its stock has decreased ~5%. Halliburton provides services and products to the upstream industry.
By market capitalization, Schlumberger is the largest OFS company. Its stock price has declined 12% since January 12, 2017. Schlumberger provides technology, information solutions, and integrated project management to energy producers. Schlumberger accounts for ~21% of OIH.
Article continues below advertisement
Baker Hughes's stock price has decreased ~20% in the past year—the steepest decline in our set of OFS companies. Baker Hughes provides drilling and evaluation and completion and production services to upstream producers. A transaction combining General Electric's (GE) oil and gas business with Baker Hughes was completed on July 3, 2017. Read Can the BHI–GE Partnership Benefit from Global Growth? to learn more.
National Oilwell Varco's returns have been relatively resilient. It outperformed the industry ETF and fell 2% in the past year. National Oilwell Varco designs, manufactures, and sells equipment and components to energy producers.
What impacted returns in 2017?
The US rig count has risen 39% in the past year. OFS companies' revenues and profitability could improve when upstream companies' drilling and production increase, although the improvement depends on the OFS companies' business models. Many offshore projects have been deferred in the past two years due to depressed crude oil prices. The projects can finally be executed if crude oil price's upward momentum continues. It could have a positive impact on OFS companies supplying products and services to offshore upstream companies.
In this series
In this series, we'll compare these four large market cap OFS companies based on revenues, earnings, balance sheet strength, and various industry indicators. Next, we'll compare the changes in the companies' revenues in 9M17.