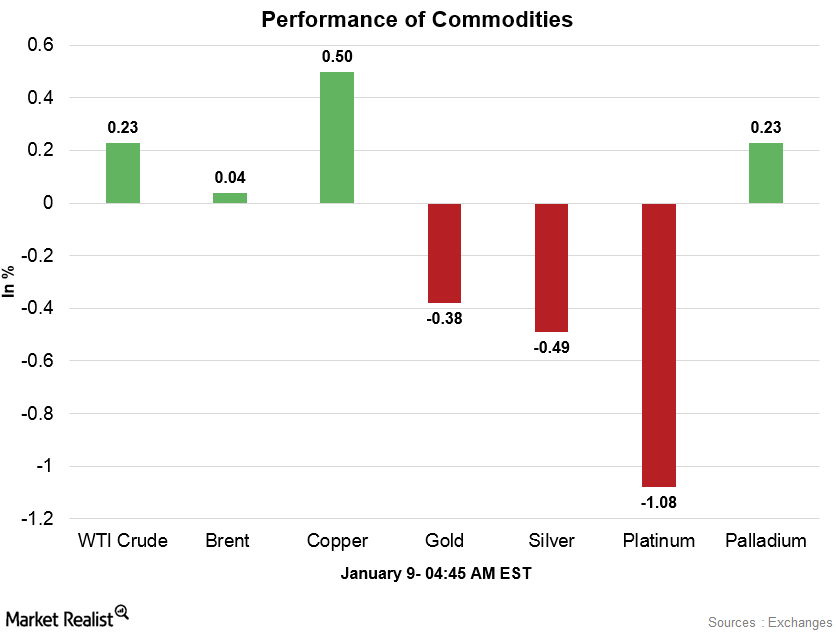 Commodities Are Mixed in the Early Hours on January 9
Crude oil
After gaining for three consecutive trading weeks, crude oil started this week on a stronger note by rising to the highest levels traded since 2015 on Monday. On Tuesday, crude oil opened the day on a stable note and traded at elevated levels in the early hours.
Article continues below advertisement
Market sentiment
The market sentiment was mixed to strong last week amid speculations about supply disruptions. The 2018 outlook for crude oil prices is strong due to major oil producers extending the supply cut agreement. The fall in the US oil rig count also supported crude oil prices on Monday. However, concerns about the increasing trend in US oil production limited oil prices' upward movement. The market is looking forward to the release of weekly crude oil inventory data by the American Petroleum Institute at 4:30 PM EST today.
At 4:35 AM EST on January 9, the West Texas Intermediate crude oil futures for February 2018 delivery were trading at $61.87 per barrel—a gain of 0.23%. The Brent crude oil futures for March 2018 delivery rose 0.07% to $67.83 per barrel. The SPDR S&P Oil & Gas Exploration & Production ETF (XOP) closed at $38.77 after rising 0.6% on January 8.
Copper
After pulling back last week, copper started this week on a weaker note by falling to two-week low price levels. Copper opened higher on Tuesday and traded with strength. The improved outlook for industrial production and copper demand in 2018 supported copper prices.
Gold and silver are trading with weakness in the early hours on Tuesday. The US dollar's rebound along with strong global market sentiment weighed on gold prices. The strong dollar weighs on dollar-denominated commodities like copper, gold, and silver. Platinum is weak, while palladium is strong in the early hours on Tuesday.