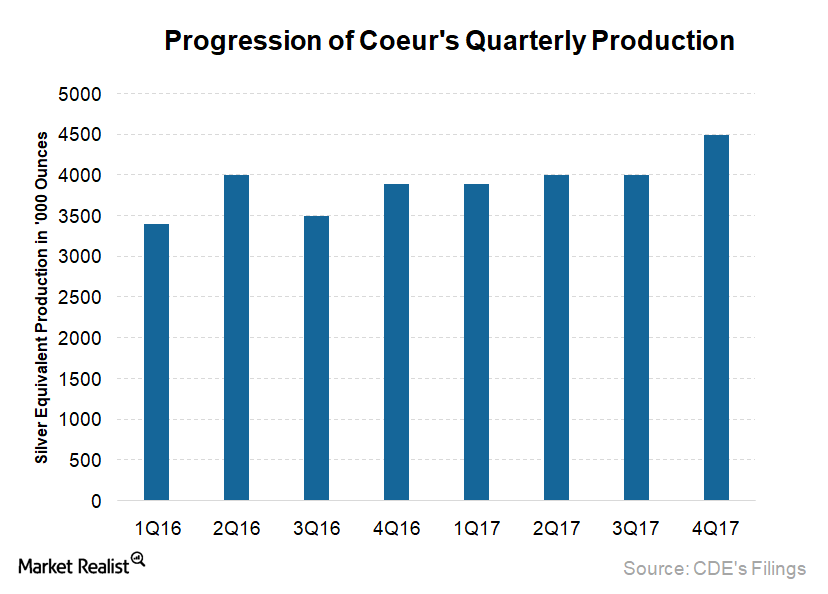 A Look at Coeur Mining's Production Guidance for 2018
By Anuradha Garg

Jan. 31 2018, Updated 5:30 p.m. ET
Coeur Mining's 4Q17 production
Coeur Mining (CDE) reported a record quarterly silver equivalent production of 11.7 million ounces in 4Q17. This production level consisted of 4.5 million ounces of silver and 119,114 ounces of gold. Coeur Mining's 4Q17 production implied an impressive increase of 23.0% quarter-over-quarter and 17.0% year-over-year (or YoY).
Coeur Mining's fiscal 2017 silver equivalent ounce (or SEO) production of 39.4 million ounces was also the highest it has ever achieved annually. This production level showed a 9.0% increase over its 2016 production.
Coeur Mining's annual silver production of 16.4 million ounces came in at the high end of its guidance range of 15.3 million–16.6 million ounces. Its gold production of 383,444 ounces was within the guidance range of 367,000–392,000 ounces.
Article continues below advertisement
2018 production guidance
Coeur Mining (CDE) expects its 2018 production to be 36.6 million–40.0 million SEO. This production level is expected to consist of 12.8 million–14.4 million ounces of silver and 355,000–375,000 ounces of gold.
At the midpoint of this guidance range, its expected production growth implies a decline of 2.8% YoY.
Mine-by-mine production
The Palmarejo Complex is Coeur Mining's silver and gold mine in Mexico. The 4Q17 SEO from this complex increased 70.0% YoY. For 2017, its production of 14.5 million SEO represented a 64.0% increase over 2016. Its 2018 guidance is slightly lower at 13.1 million–14.0 million SEO.
Rochester, Nevada, also showed impressive production growth, as its SEO rose 17.0% YoY in 4Q17 to 2.5 million ounces. For fiscal 2017, Rochester's SEO production was almost unchanged year-over-year at 7.8 million ounces. Its 2018 production from this site is expected to be in the range of 6.9 million–7.7 million SEO.
For Kensington, production in the fourth quarter was the highest for the year, rising 27.0% quarter-over-quarter.
Peer production
Among Coeur Mining's peers (SIL), Pan American Silver (PAAS), Hecla Mining (HL), Silver Standard Resources (SSRI), and Newmont Mining (NEM) are also trying to increase production at the lowest possible cost. In the rest of this series, we'll see how that trend could impact Coeur Mining's revenues and earnings going forward.
In the next article, let's look at analysts' recommendations for Coeur Mining.