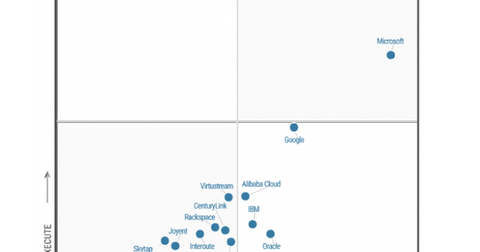 Why Cisco Systems Partnered with Alibaba
By Adam Rogers

Updated
Cisco collaborates with Alibaba
In November 2017, Cisco Systems (CSCO) partnered with Alibaba's (BABA) infrastructure team to build a next-generation data center. The two firms will look to leverage their tech (technology) expertise to make innovative and intelligent networks for next-generation data center switching networks. According to Cisco's press release, "The new data center will be continually updated and iterated to become a paradigm for the architecture of China's Internet industry, and will also unleash the unlimited potential of cloud computing and big data to empower the development of the Internet economy."
Cloud, digitization and AI (artificial intelligence) are the key drivers for tech growth over the next few years. Cisco has partnered with Alibaba Cloud, which is Alibaba's cloud computing vertical that provides secure computing and machine learning services.
Article continues below advertisement
Internet companies are now looking to secure cloud architectures for networks. Since several companies have migrated onto Alibaba's cloud platform, it requires a secure, reliable, and innovative data center solution. Cisco has deployed its Nexus 9000 Series switches for Alibaba's 25G/100 data center architecture to help the latter's network improve agility and simplify operations.
With this collaboration, Cisco is expected to gain a strong foothold in China's markets. Cisco aims to expand this partnership into areas such as data traffic visualization, data center interconnection, and network assurance.
Alibaba named a visionary in Gartner's magic quadrant