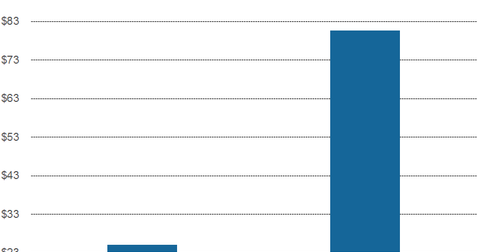 Cisco Systems and the Global Hyperscale Data Center Market
By Adam Rogers

Updated
Hyperscale data centers
Hyperscale servers are customized for particular data center requirements. According to a report from Storageswitzerland.com, "Hyperscale data centers have architectures that are designed to provide a single, massively scalable compute architecture. The architecture is typically made up of small, individual servers, called nodes, that provide compute, storage and networking."
These nodes are deployed from shelf servers and clustered together. Hyperscale architectures are used by firms that can afford small investments initially and later scale up in case of increased demand.
Article continues below advertisement
According to a Synergy Research Group report, data centers operated by hyperscale providers are nearing the 400 mark. At the end of 2017, that figure will be close to 390 after data center openings in India (INDA), China, and Malaysia. The United States accounts for 44% of the major cloud and Internet data center sites, according to the report.
Tech (technology) heavyweights Amazon (AMZN), Microsoft (MSFT), Google (GOOG), and International Business Machines (IBM) have the largest data center footprints and are the leading cloud providers. Cisco Systems (CSCO) could thus find it difficult to increase market share in this space.
Hyperscale data center market might reach $80 billion by 2022
MarketsandMarkets estimates that the global hyperscale data center market could grow from $25.1 billion in 2017 to $80.6 billion in 2022, or at a CAGR (compound annual growth rate) of 26.3%. That exponential growth could be driven by high application performance, a need to reduce operational expenditures, and a rise in data center spending.