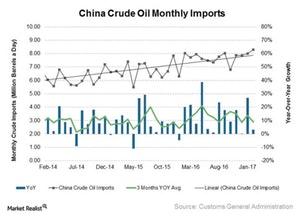 China's Crude Oil Imports Fell fom November's High
By Sue Goodridge

Updated
China's import and export data
Last week, China released its trade data for December. In dollar terms, the country's exports rose 10.9% YoY (year-over-year), while imports rose 4.9%. The data deteriorated from November. Chinese exports rose 12.3% YoY, while its imports rose 17.7% in November. China's exports were better than expected. However, its imports missed by a wide margin.
Article continues below advertisement
December's crude oil imports
In December, China's crude imports dropped from the second-highest level of imports recorded in November. In December, China's crude oil imports were 33.7 million tons—down from 37.04 million tons in the previous month. On a daily basis, China imported 7.94 MMbpd (million barrels per day)—compared to 9.01 MMbpd in November. Its imports fell 12% from the previous month.
Fiscal 2017
In 2017, China's crude oil imports were 10% higher year-over-year at 419.6 million tons or 8.39 MMbpd. China's import growth was fueled for the second consecutive year by independent refineries also known as "tea-pot refineries." The government allowed the refineries to import crude oil.
Article continues below advertisement
2018
Earlier, China announced that the quota for teapot refineries' crude oil imports will increase to 142 million tons in 2018—55% higher than 2017. The volume is equivalent to 37% of the country's crude oil imports in 2016. It should be positive for the crude tanker industry.
China's crude imports
Most of China's crude imports are carried out through crude oil tankers. It's one of the largest importers in the world. Around 60% of China's oil consumption comes through imports. Typically, higher crude oil imports mean higher crude oil tanker demand. Higher crude tanker demand translates to higher rates for tankers.
Higher tanker rates benefit crude tanker companies including Euronav (EURN), Nordic American Tankers (NAT), Gener8 Maritime Partners (GNRT), DHT Holdings (DHT), Tsakos Energy Navigation (TNP), and Teekay Tankers (TNK).