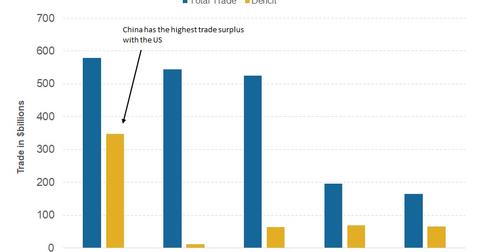 Why Is China the Largest Holder of US Debt?
By Ricky Cove

Jan. 12 2018, Updated 5:40 p.m. ET
Why China holds US debt
China depends largely on its exports. It tries to remain competitive in the global markets by managing its currency exchange rate against its major trading partners. It's in China's best interest to keep the Chinese yuan from appreciating too quickly. The Chinese government manages to hold its currency down by buying US Treasuries using its trade surplus. When the Chinese yuan is appreciating, the Chinese treasury uses its surplus reserves of US dollars to purchase US Treasuries (GOVT). By doing so, it increases the demand for the US dollar (UUP) in international markets and increases the supply of the Chinese yuan (FXI), resulting in the appreciation of the US dollar with respect to the yuan. Over the years, this exercise of holding down the yuan exchange rate has resulted in China's amassing large amounts of US Treasuries.
Article continues below advertisement
Impact of China and US debt
The process of China buying US debt is beneficial for both the United States and China. By lending its trade surplus to the United States, China is helping the United States purchase Chinese goods. The United States benefits by getting goods at a cheaper cost. This economic arrangement has created an interdependency of both countries, which is unlikely to change anytime soon.
Trump administration's attempt to reduce deficit with China
There have been attempts by the Trump administration to force China to allow its currency to appreciate so the US deficit to China can be reduced, but it has done little to change the situation. Whenever such a situation arises, the Chinese government shows its economic strength by announcing plans to reduce its US debt (BND) holdings. Such announcements can lead to a panic in the debt markets, driving US bond (IVV) yields higher.
In the final part of this series, we'll explain what could happen if China sells its US debt holdings and who could stand to lose if it does so.