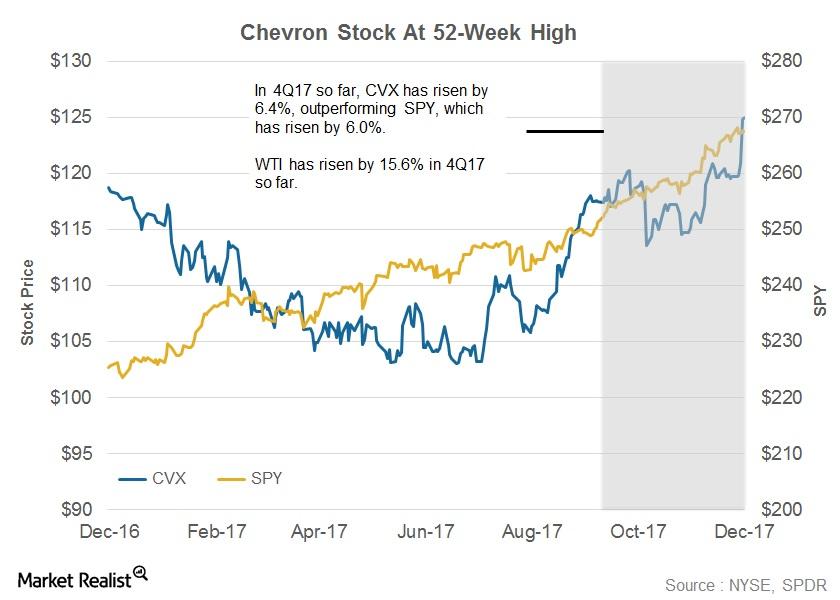 Chevron Stock at a 52-Week High in 4Q17
By Maitali Ramkumar

Nov. 20 2020, Updated 3:47 p.m. ET
Chevron stock performance compared to SPY
Chevron (CVX) stock has risen 6.4% since October 2, 2017, outperforming the SPDR S&P 500 ETF (SPY), which has risen 6.0% in the same period.
CVX's peer Royal Dutch Shell (RDS.A) has risen 8.6% since October 2. Similarly, ExxonMobil (XOM) and BP (BP) have risen 2.9% and 7.6%, respectively, in the quarter so far.
Article continues below advertisement
Oil prices up in 4Q17
Overall in 2017, WTI prices rose 11.7%. However, crude oil prices surged 15.6% in 4Q17.
Oil prices have risen likely due to production cuts and unplanned outages impacting global supply. US oil inventories have depleted, according to the latest figures published by EIA (U.S. Energy Information Administration). The pipeline shutdown in Britain has also affected the oil supply. To add to this, high production cut compliance has further dented global oil supply. For more oil price analysis, read Bullish Drivers Could Support Crude Oil Futures Next Week.
Chevron stock also rises
The rise in oil prices has possibly supported Chevron stock in 4Q17.
Plus, recently announced tax reforms have further boosted Chevron stock. According to the latest tax code, corporate tax has been slashed from 35% to 21%. This could bring in huge benefits for Chevron in the form of higher net earnings and cash flows. It's no surprise that Chevron stock is skyrocketing.
To add, in the quarter, Gorgon and Wheatstone, Chevron's mega upstream projects in Australia, have been operational. These projects should add to the company's hydrocarbon production. We'll discuss its upstream production and performance later in the series.
Article continues below advertisement
With the completion of its capital-intensive upstream projects, Chevron's 2018 capital expenditure (or capex) budget stands at $18.3 billion. Comparatively, Chevron's capital expenditure stood at $22.4 billion in 2016. In the first nine months of 2017, CVX's capex stood at $13.4 billion. Chevron has also placed a strong emphasis on sturdy financials such as lower debt and robust cash flows, which can provide strength and flexibility to the company even at lower price points.
In a nutshell…
Overall, higher oil prices, tax reform, the startups of mega upstream projects, and a focus on financial strength are the likely reasons for Chevron's stock rise in the current quarter.
Series outline
This series aims to review Chevron's market and financial performances. In the following few article, we'll examine CVX's moving average crossovers followed by its 98-day price forecast. We'll also answer some intriguing questions: Why the majority of analysts rate Chevron as a "buy"? Is CVX's dividend expected to rise in the next quarter? Are institutions buying more Chevron stock? Does Chevron command premium valuations over its peers?
We'll also review whether Chevron's debt and cash flow positions are improving, and we'll look at its capex activities in 3Q17. Then we'll analyze Chevron's segmental earnings followed by its upstream portfolio growth and its downstream segment's performance.