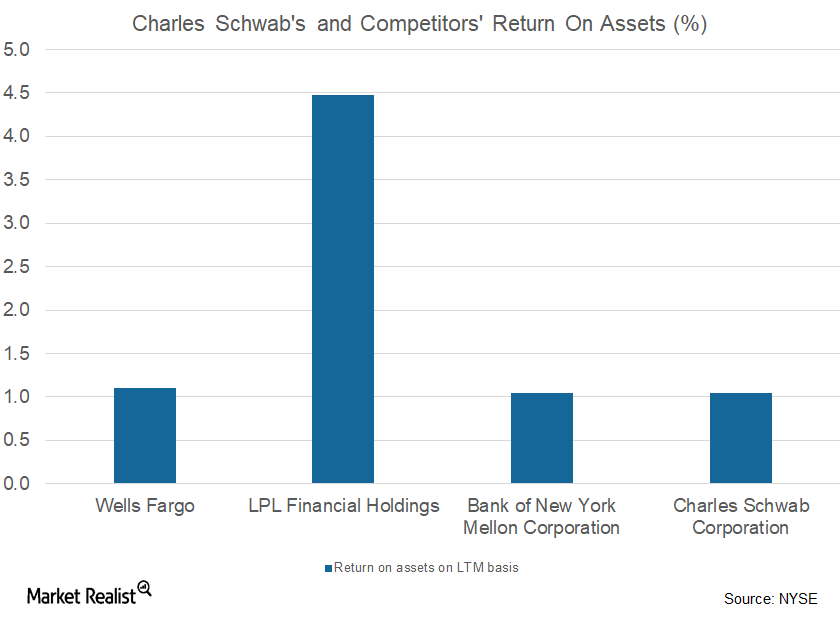 Did Charles Schwab's Total Expenses Rise in 2017?
By Raymond Anderson

Jan. 10 2018, Updated 10:34 a.m. ET
Professional services
Charles Schwab (SCHW) incurred professional services expenses of $429 million in 9M17 (the first nine months of 2017) compared to $372 million in 9M16, a rise of 15% mainly due to the expenses related to technology projects. However, an increase in asset management and administration costs also contributed to the rise.
Charles Schwab incurred occupancy and equipment expenses of $323 million in 9M17 compared to $299 million in 9M16, an 8% increase. Out of the total expenses (excluding interest), costs incurred on the company's investor services division stood at $2.7 billion in 9M17. During the same period, expenses incurred in the adviser services division stood at $917 million.
Article continues below advertisement
Marginal rise
Charles Schwab witnessed a marginal rise in the advertising and market development expenses from $204 million in 9M16 to $205 million in 9M17. The company incurred depreciation and amortization expenses of $200 million in 9M17 compared to $173 million in 9M16, an increase of 16%, mainly reflecting a rise in the amortization expenses in relation to internally developed software.
Charles Schwab incurred other expenses of $325 million in 9M17 compared to $273 million in 9M16, a substantial rise of 19%. This rise was mainly due to a rise in the FDIC (Federal Deposit Insurance Corporation) assessments. In 9M17, the company's communications expenses stood at $171 million compared to $179 million in 9M16.
On an LTM (last-12-month) basis, Charles Schwab reported return on assets of 1.0%, and peers (XLF) like Wells Fargo (WFC), LPL Financial Holdings (LPLA), and Bank of New York Mellon (BK) reported returns on assets of 1.1%, 4.5%, and 1.0%, respectively.