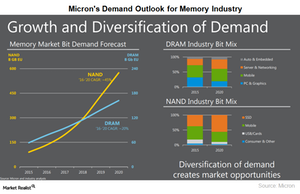 How Changing Consumer Market Dynamics Have Affected Micron
By Puja Tayal

Updated
The changing dynamics of Micron's consumer markets
Micron Technology (MU) is a supplier of memory chips, and its customer base largely composed of PCs (personal computer) and data centers. With the advent of the mobile revolution, its customer base has expanded, reducing the cyclicity of the memory market.
Now the world is moving toward a connected economy, in which every device—from mobile phones to cars to home appliances to industrial machinery to street cameras—may be connected to the Internet and have computing capabilities. This trend is called edge computing.
Article continues below advertisement
In this interconnected world, additional features on the mobile will likely increase DRAM (dynamic random-access memory) content per device. On mobile, these features will be delivered through servers, driving demand for NAND (negative AND) storage in the data center. Hence, the growing demand for data processing and storage will likely drive demand for memory.
These catalysts saw memory demand swell so much in 2017 that suppliers had trouble meeting demand. Now that the US tax bill passed in December 2017, the investment environment is favorable in the country, and more companies will likely invest in new technology, pushing memory demand.
What does the technology shift mean for Micron?
The increasing adoption of AI (artificial intelligence) is driving both DRAM and NAND demand in the cloud and traditional enterprise data center spaces. The adoption of AI and AR/VR (augmented/virtual reality) by Smartphones is also increasing memory content per Smartphone. The growing popularity of eSports, cryptocurrency, and PC gaming is driving demand for graphics memory.
The technology shift is also diversifying Micron's customer base to include automotive and industrial IoT (Internet of Things) technology.
Article continues below advertisement
AI opens new industries to Micron
As we move toward autonomous cars and smart industries, the demand for memory and flash storage solutions could increase. These solutions have longer manufacturing times, slowing supply growth.
As the adoption of AI increases in other sectors, such as finance, healthcare, and e-commerce, the demand for complex memory solutions could increase. However, these new industries are still in their infancy and will require a few years to grow. For Micron, immediate growth will likely come from the server, mobile, and SSD (solid-state drive) spaces.
Micron's growth potential in the technology shift
NVIDIA (NVDA) and Intel (INTC) are at the forefront of the technology (QQQ) shift, and Micron is a key memory supplier for both companies. This has led to the emergence of specialized memory solutions, which have a higher margin. Micron's new CEO, Sanjay Mehrotra, has been focusing on developing high-value specialized solutions to meet future demands.
The changing technology trend is creating strong secular demand for high-value specialized memory solutions, and Micron is adapting well to these shifts, indicating that it could move toward stable earnings in the long term.
However, Micron could continue to face competition in the memory market. We'll look into this in the next article.