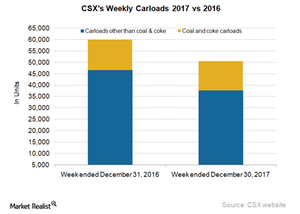 Canadian National Railway versus Canadian Pacific Volumes in Week 52
By Samuel Prince

Jan. 12 2018, Published 8:07 a.m. ET
CNI's carload traffic
Canada's largest rail freight carrier, Canadian National Railway (CNI), has posted a 12% YoY (year-over-year) carload loss in the week ended December 30, 2017. In that week, CNI moved 48,300 carloads compared with 55,000 carloads in the week ended December 31, 2016. In the 52nd week of 2017, Canadian National's carloads loss was higher than that of US and Canadian railroads overall.
In the last week of 2017, Canadian National Railway reported lower gains. Much of the carload loss was due to a 9% fall in carloads minus coal and coke. The company's carloads other than coal and coke totaled 44,000 units, compared with ~48,000 units in the 52nd week of 2016. Coal and coke carloads fell 35%, totaling 4,300 units, down from ~6,500 units in 2016.
Article continues below advertisement
Change in carload commodity groups
CNI's intermodal volume in week 52
For the past several weeks, Canadian National Railway has registered robust gains in intermodal traffic, and the 52nd week was no exception. That week, CNI's intermodal traffic expanded 11.8% YoY (year-over-year). Unlike other class-I railroads, CNI's intermodal traffic includes only containers. Compared with 33,200 containers in the corresponding week of 2016, the railroad moved ~37,100 containers in the last week of 2017.
Canadian National Railway recorded a 16.4% rise in intermodal traffic and a 6.2% rise in carload traffic in 2017. This was much higher than what was reported by US railroads (XLI) overall, though in tune with Canadian railroads' overall gains.
In the next and final final part, we'll look into the freight volumes of Canadian Pacific Railway (CP).