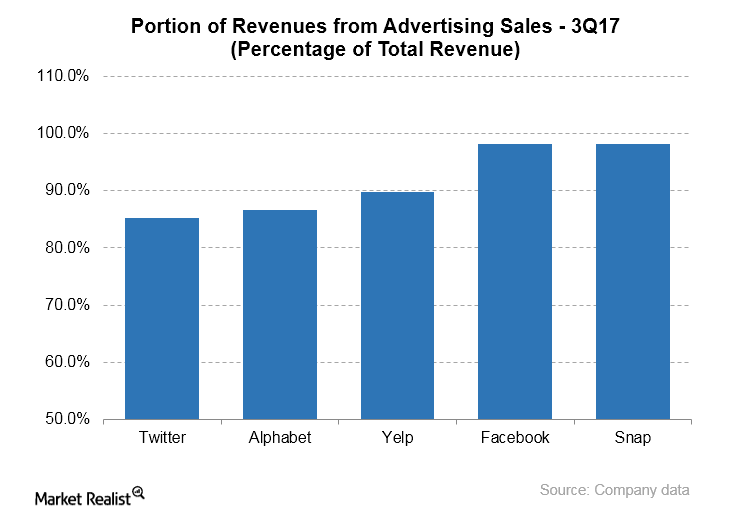 Can Twitter Succeed in the Local Advertising Market?
By Neha Gupta

Dec. 4 2020, Updated 10:51 a.m. ET
Competition heats up in the local advertising market
As SMEs (small- and medium-sized enterprises) go online to bolster their customer exposure, the local advertising market is heating up with competition, and Twitter (TWTR) is one of the providers stoking the fire.
Twitter's chief financial officer, Ned Segal, spoke at the recent UBS technology conference and shed some light on the company's local advertising strategy. First, Segal showed that the local advertising market presents an exciting revenue opportunity for Twitter.
Article continues below advertisement
Twitter's local strategies
Segal went on to highlight that self-serve advertising that simplifies ad purchasing for small businesses was one of the strategies Twitter was using to deepen its penetration of the local advertising market. As part of its self-serve advertising program, Twitter is testing a subscription-based self-serve advertising model called Promote Mode that it says removes even more friction points for small businesses purchasing ads on its platform.
Having the right content from a local perspective is also a component of Twitter's local strategy. With local content, Twitter believes it can deliver a better ROI (return on investment) for local advertisers and in turn attract more local advertising budgets.
Opposition to Twitter's local push
In its local push, Twitter is setting itself up against strong competitive forces. Facebook (FB) and Alphabet's (GOOGL) Google are all gunning for local advertising dollars, and Twitter is going to face off with them. Yelp (YELP) has traditionally positioned itself as the go-to platform for local advertisers, and it's another opposition to Twitter's local push.
Advertising sales represented 85.3% of Twitter's total revenue in 3Q17. Facebook, Alphabet, Yelp, and Snap also rely on advertising sales for over 80% of their revenues, as we can see in the chart above.