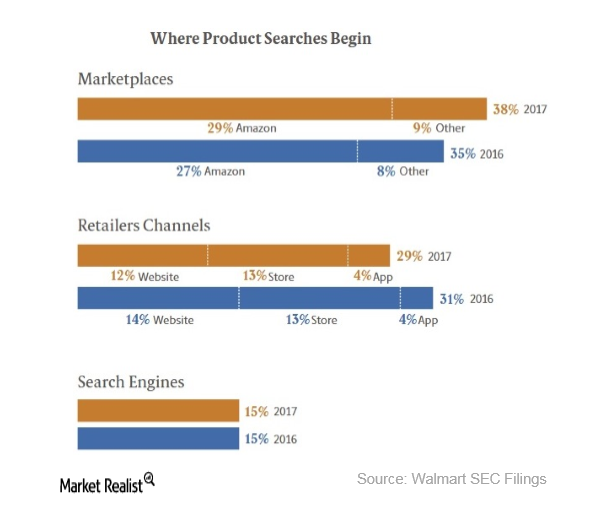 Can Google Express Help Alphabet Compete against Amazon?
By Neha Gupta

Sep. 30 2019, Updated 7:43 p.m. ET
Amazon rattling legacy retailers
The retail partnerships that Alphabet's (GOOGL) Google has been trying to build around its online shopping and shipping platform, Google Express, are viewed as part of the attempts the company is making to counter the growing competitive threat from Amazon (AMZN).
Legacy retailers such as Walmart (WMT), Target (TGT), and Costco (COST) are uncomfortable with Amazon because this e-commerce giant is causing them to lose customers. For Google, Amazon's online popularity is a threat to its advertising business. Several recent surveys have shown that Americans looking to purchase a product online start their product searches on Amazon instead of Google, implying that Amazon is eating into Google's online shopping traffic.
Article continues below advertisement
Americans start online shopping trips on Amazon
A 2017 survey by package delivery company United Parcel Service (UPS) found that 29% of American online shoppers start their product search on Amazon compared with 15% of American online shoppers who start their product search on search engines such as Google, Microsoft's (MSFT) Bing, and Verizon's (VZ) Yahoo.
In a different report released in 2016, a survey by BloomReach found that 55% of American shoppers start their online shopping journeys on Amazon compared with 28% of shoppers who begin their shopping trips on search engines like Google.
Search engines and retailers combined outweigh Amazon
The UPS survey showed that search engines and retailers' sites combined control a larger share of online product searches than marketplaces like Amazon and eBay (EBAY). Therefore, expanding partnerships with retailers via Google Express might help Google to mitigate some of the pressure coming from Amazon.