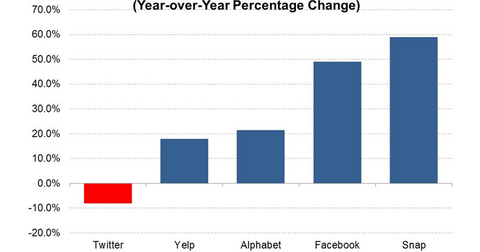 Can Facebook Reach 60 Million Advertisers?
By Neha Gupta

Jan. 12 2018, Updated 10:30 a.m. ET
Instagram advertisers doubled in six months
In a span of roughly five months, active advertisers on Facebook's (FB) flagship platform increased by 1.0 million to more than 6.0 million advertisers at the end of September 2017. In about six months, Facebook's photo-sharing app, Instagram, doubled its active advertiser base to 2.0 million.
Facebook's chief marketing officer, Gary Briggs, spoke at a recent technology (QQQ) summit hosted by Wells Fargo. He noted that the company has the potential to reach 60.0 million active advertisers on its flagship platform, which had 2.1 billion users exiting 3Q17.
Article continues below advertisement
Business pages produce advertisers
According to Briggs, the number of business pages on Facebook is more than ten times the number of advertisers on the platform today. Facebook recruits advertisers from the business pages it hosts, so the number of business pages gives it a clue about the size of its potential advertisers.
Facebook counts 6.0 million active advertisers on its main platform, and a look at the number of pages it hosts implies that there is room for Facebook to increase its advertiser base 60.0 million.
To encourage businesses of all sizes to run ads on Facebook, Briggs said the company was working to simplify its ad products. This shift would allow more customers to understand the products that suit their needs. Facebook's advertising sales grew 49% year-over-year to $10.1 billion in 3Q17.
It's a tough race even for Facebook
Even with its massive audience size, Facebook is in for a tough race to dominate the advertising universe. In addition to traditional rivals such as Google (GOOGL), Twitter (TWTR), Snap (SNAP), and Yelp (YELP) raising the competition stakes, outsiders such as Verizon (VZ) are actively aimng for a share of the digital advertising market, further complicating the competition.