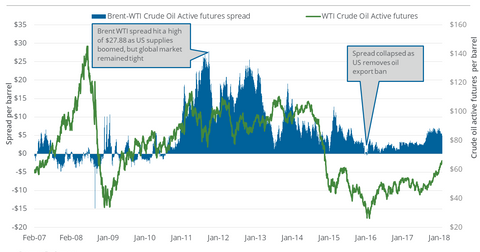 Brent-WTI Spread Is Declining: What Does It Mean?
By Rabindra Samanta

Jan. 30 2018, Updated 2:06 p.m. ET
The spread
On January 29, 2018, the difference between Brent crude oil (BNO) active futures and WTI (West Texas Intermediate) crude oil (USO) (UCO) active futures was $3.9—the lowest since August 17, 2017. On the same day, Brent crude oil active futures settled above WTI crude oil futures. On January 22, the difference or the "Brent-WTI spread" was $5.54.
On January 22–29, 2018, US crude oil futures rose 3.1%. Brent crude oil futures only gained 0.6%, which caused the spread to fall. The faster rise in WTI crude oil compared to Brent crude oil prices could be because of the sharp fall in Cushing inventories. Rising US crude oil exports could also narrow the spread. US oil producers (XOP) (DRIP) (FENY) prefer selling their oil output at higher prices in foreign markets—compared to lower prices realized in the domestic market.
Article continues below advertisement
Oil exports
In the week ending January 19, 2018, US crude oil exports rose by 162 Mbpd (thousand barrels per day) to ~1.41 MMbpd (million barrels per day). On a year-over-year basis, US crude oil exports have risen more than two times. Since OPEC's deal became effective in January 2017, US oil exports have risen by ~0.7 MMbpd—57% of OPEC's pledged output cut. US crude oil exports could be a threat to global oil exporters' market share—a factor that could limit Brent crude oil's upside.
Since the spread is positive, US oil producers (XOP) (DRIP) (FENY) realize less revenue selling in the US market—compared to their international competitors selling in the international market. Most of the oil produced in the US follows WTI crude oil prices, while Brent is the benchmark for international producers.
The positive price difference could be good for US refineries (CRAK) using cheaper WTI crude oil benchmarked and selling their refined products at international prices following Brent crude oil prices.