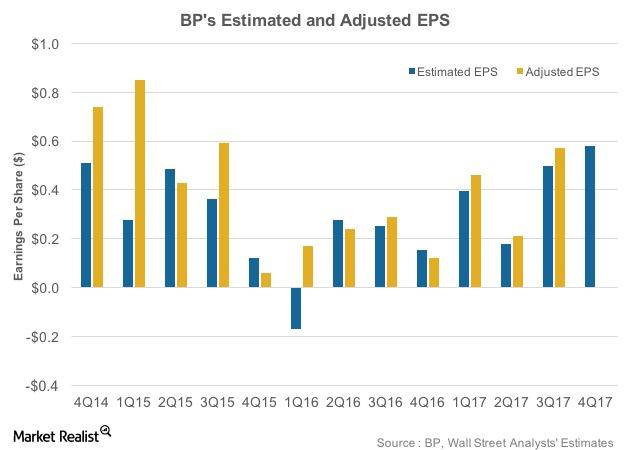 BP's 4Q17 Estimates: Ranks 2nd among Integrated Energy Firms
BP's estimated and actual performance in 3Q17
In this ranking series of the top four integrated energy companies based on their likely year-over-year (or YoY) earnings growth, the second spot is occupied by BP (BP). In the previous part, we covered Chevron (CVX), which is likely to witness a 508.0% YoY rise in in its earnings, ranked first. Before looking at the 4Q17 estimates, let's look at the company's performance in 3Q17.
In 3Q17, BP's revenues surpassed Wall Street analyst estimates. BP reported diluted EPS (earnings per ADS) of $0.53 in 3Q17. However, BP's adjusted EPS stood at $0.57 compared to estimated EPS of $0.49, beating analyst estimates. Also, BP's 3Q17 adjusted EPS stood 97.0% higher than its 3Q16 adjusted EPS.
Article continues below advertisement
BP reported earnings of $1.8 billion in 3Q17 compared to $1.6 billion in 3Q16. BP's 3Q17 earnings translated to adjusted profits of $1.9 billion in 3Q17. In 3Q17, BP's adjusted EBIT (earnings before interest and taxes) also rose, which was due to a rise in upstream earnings led by higher crude oil and natural gas realizations.
BP's downstream earnings increased YoY. Also, Rosneft's (BP's equity stake in the Russian oil company) earnings rose YoY.
BP's 4Q17 estimates
According to Wall Street analysts, BP (BP) is expected to post EPS of $0.58 in 4Q17, which is 383.0% higher than its 4Q16 adjusted EPS. BP's revenues are estimated to be ~$50.7 billion in 4Q17, ~1.0% lower than its revenues in 4Q16.
Let's look at the outlook for BP's upstream and downstream earnings. A dollar-per-barrel increase in the Brent price increases BP's pretax replacement cost operating profit by $340.0 million annually.
In 4Q17, the Brent price rose to an average of $62.00 per barrel compared to $51.00 per barrel in 4Q16. BP's downstream earnings are likely to increase because global refining marker margins (or RMM), which are refining margin indicators of areas where BP operates, have risen.
According to BP, a change of $1.00 per barrel in its RMM changes its pretax replacement cost operating profit by $500.0 million annually. BP's RMM has risen from $11.40 per barrel in 4Q16 to $14.40 per barrel in 4Q17. Wall Street analysts expect BP to post a steep surge in earnings.
Next, we will look at Royal Dutch Shell's (RDS.A) earnings expectation for 4Q17. Shell stands third among the four integrated firms discussed in this series.