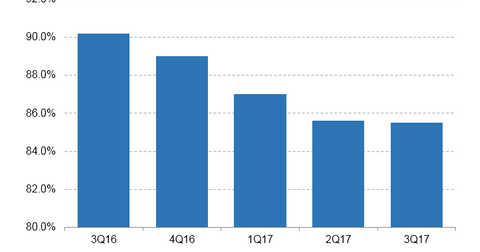 A Baidu Dream that Might Spur Bitcoin Mining
By Ruchi Gupta

Updated
Baidu renting computing power
Baidu (BIDU) recently launched a new service called Baidu Jinkuang, which means Baidu Gold Mine, the South China Morning Post reported. The service lets users rent out their spare computing power and receive a cash payment from Baidu in exchange.
The computing capabilities Baidu is interested in renting from Jinkuang users are spare hard drive space and broadband connections. A system that can donate computing power to Baidu Jinkuang should be equipped with at least a 16-core CPU and 64 gigabytes of storage. Its broadband connection should be at least 1 Gbps (gigabit per second).
Article continues below advertisement
Cryptocurrency is resource-intensive
The high system requirements notwithstanding, Baidu's idea of letting people contribute extra computing power to support digital operations could go a long way in helping spur cryptocurrency mining.
It takes a lot of computing power to mine cryptocurrencies such as bitcoin. For example, an average personal computer can take about 4.5 years to churn out a single bitcoin. By pooling computing resources through its Baidu Jinkuang service, Baidu might not only help simplify cryptocurrency mining but also get more people involved in cryptocurrency production.
Potential boost to top line
Baidu Jinkuang could open up an important new source of revenue for Baidu and contribute toward diversifying its revenue sources. In 3Q17, Baidu's revenues grew 29% YoY (year-over-year).
Alibaba (BABA), JD.com (JD), and Tencent (TCEHY) saw their revenues grow 61.0%, 39.2%, and 61.0% YoY, respectively, in 3Q17. Baidu relies on advertising sales for most of its revenues.