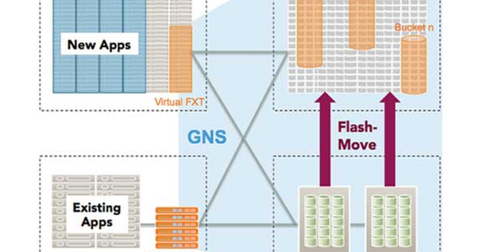 How Avere Systems Complements Microsoft Azure
By Anne Shields

Updated
Microsoft's position in enterprise storage space could get a boost
In the previous part of this series, we looked at Microsoft's (MSFT) recent acquisition of Avere Systems. Avere Systems provides SMB (Server Message Block) file-based storage and NFS (Network File System) technologies for Windows and Linux customers. These technologies run in the cloud as well as the on-premise environment. NFS forms the foundation of distributed file systems and enables a user to not only view but also store and update files on a remote system or computer as if they were on the user's own computer. Through the acquisition of Avere Systems, Microsoft's position in the enterprise storage space could get a significant boost.
Article continues below advertisement
In a related blog post, Jason Zander, corporate vice president for Microsoft Azure, shared his thoughts on how Avere Systems complements Microsoft's cloud strategy. He wrote, "By bringing together Avere's storage expertise with the power of Microsoft's cloud, customers will benefit from industry-leading innovations that enable the largest, most complex high-performance workloads to run in Microsoft Azure."

Avere Systems has wider cloud coverage
Citing Rebecca Thompson, vice president of marketing for Avere Systems, EnterpriseTimes wrote, "At Avere, we've been dedicated to shattering the myth that organizations can't have enterprise NAS performance in the public cloud. Now, working with Microsoft, we're helping enterprises harness the computing power of Microsoft Azure, the same infrastructure used by more than 57 percent of Fortune 500 companies, for all of their big data applications."
Since 2015, Avere has been supporting Microsoft Azure. Its acquisition by Microsoft could deepen the technology integration between the two. In addition to Microsoft, Amazon (AMZN) and Google (GOOG) are Avere's cloud partners.
The integration of Avere Systems with Microsoft's technologies implies that customers' cloud, storage, and on-premise environments will be managed as though they were a single pool.
Avere's Virtual FXT Edge filer is expected to enable the companies to migrate their data to the cloud without their performances being affected. That's crucial for companies that are bound to SLAs (service-level agreements) with their users.