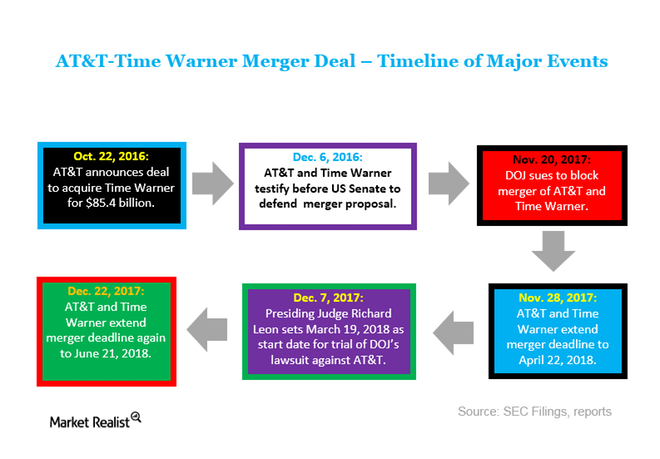 Why AT&T Extended the Time Warner Merger Deadline
By Ambrish Shah

Nov. 20 2020, Updated 11:41 a.m. ET
Termination date moved to June 21
Time Warner (TWX) and AT&T (T) agreed to extend the deadline for their proposed merger by roughly two months. This move occurred after it became clear that the court decision on the US government's antitrust challenge to the proposal would come after the recently revised merger deadline.
According to a regulatory filing, Time Warner and AT&T have set June 21, 2018, as the new termination date for their merger agreement. If the companies had not secured the green light to merge by June 21, the merger agreement would have become invalid.
Article continues below advertisement
Deal was originally set to close in October 2017
In October 2016, AT&T had agreed to acquire Time Warner, the owner of media properties like CNN, for $85.4 billion. However, it's been a long journey for the companies in trying to close the deal.
The companies had originally set October 22, 2017, as the deadline to close the proposed merger, but they revised the merger deadline date to April 22, 2018.
This revision occurred after the U.S. (SPY) Department of Justice (or DOJ)sued to block AT&T from procuring Time Warner, characterizing the deal as a threat to competition.
Judge would need more time to reach a decision
The reset of the Time Warner–AT&T merger deadline from April 22 to June 21 was prompted by a comment by U.S. District Judge Richard Leon. Leon is presiding over the DOJ's antitrust challenge to the merger proposal.
When setting March 19, 2018, as the start date for the trial, Leon stated that he would require significant time to reach a decision. This statement indicated that a decision might come after April 22, which Time Warner and AT&T had set as the deadline to close their merger.