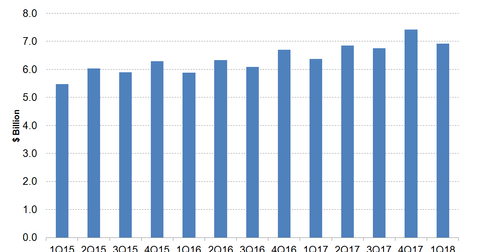 Assessing Microsoft's Stock Performance in 2017
By Anne Shields

Updated
Microsoft stock briefly crossed $700 billion mark
So far in the series, we've looked at Microsoft's (MSFT) acquisition of Avere Systems and its continued success in the cloud space. Earlier this week, Microsoft's market cap briefly crossed the $700 billion mark for the first time. Apple (AAPL) and Google (GOOG) are the other two companies that have market caps well above $700 billion.
Article continues below advertisement
Microsoft's stance in the cloud space pushed its stock to all-time highs in 2017
Microsoft's improved fundamentals and growth prospects made 2017 one of the best years for MSFT stock. The stock hit an all-time high in October 2017. From $62 per share in early January 2017, the stock is currently trading at $90 per share, an increase of more than 43% in the last year.
Barclays and Wells Fargo have increased their price targets for Microsoft stock. Barclays raised its target to $100 from $90, while Wells Fargo increased it to $95 from $89. Looking at the current trading levels of Microsoft stock, there is ample scope of appreciation in Microsoft stock.
The significant rise in Microsoft stock is newsworthy since it's not a small technology company with a small revenue base. As we know, it's a leading company in the enterprise software space and is only second to Amazon (AMZN) in the overall cloud space. Microsoft's rapid strides in the cloud space and its fiscal earnings repeatedly exceeding analysts' expectations in 2017 have helped the stock rise since the beginning of 2017.
In the last three months, Microsoft stock has risen 16%, outperforming the Nasdaq 100 Index (NDX-INDEX) and the Dow Jones Industrial Average Index, which have risen 11.7% and 13.5%, respectively, in that period.