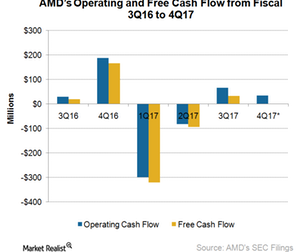 Assessing AMD's Cash Balance in Fiscal 2017
By Puja Tayal

Updated
Profits and cash flows
Advanced Micro Devices (AMD) has been working on returning to profits in fiscal 2017—and appears to have succeeded in doing so. The company returned to positive cash flow in fiscal 3Q17, after reporting negative cash flows during the first half of 2017.
AMD has been posting operating losses for quite some time, and for this reason, it didn't have enough to pay interest on the $2 billion in debt it took to run its operations. But AMD CEO (chief executive officer) Lisa Lu has restructured the company and refocused its research efforts on high-margin products to boost profits.
AMD has signed two licensing agreements in the past two years to improve its cash flows. By comparison, Qualcomm (QCOM) operates in the mobile processor market, wherein profits are wafer thin. Despite this, Qualcomm has been reporting strong profits, thanks to its licensing business.
Article continues below advertisement
Operating cash flow
In fiscal 3Q17, AMD's operating cash flow increased due to patent licensing revenues. As profits fell in fiscal 4Q17, AMD's operating cash flow could also fall, but it's unlikely to go negative.
Notably, AMD doesn't pay a dividend or buy back stocks, given its unstable cash flows. Micron Technology (MU) doesn't pay a dividend for similar reasons.
Cash and debt
Due to its fluctuating cash flows, AMD has used its cash reserves to service its debt. This saw AMD's cash reserves decline from ~$1.3 billion in fiscal 3Q17 to $879 million in fiscal 3Q17. The company is expected to maintain its cash reserves at $879 million in fiscal 4Q17, and it reduced its long-term debt from $2 billion to $1.7 billion during the same period.
The company's aim, however, is not to reduce debt but to invest in future products as it strives to stay competitive with Intel (INTC) and NVIDIA (NVDA), which have huge cash reserves on hand.
Continue to the next part for a look at how investors are reacting to the good and bad news related to AMD.