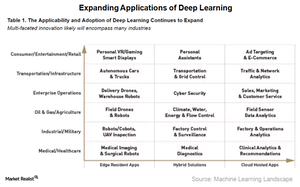 How Artificial Intelligence Could Change Semiconductor Industry
By Puja Tayal

Jan. 4 2018, Updated 2:45 p.m. ET
What is AI all about?
The semiconductor industry is witnessing a technology shift toward AI (artificial intelligence) and IoT (Internet of Things). The industry witnessed the onset of AI in 2017, which results in almost all semiconductor companies reporting strong growth. What is AI, and how is it related to semiconductors?
AI is computer algorithms that mimic a human's ability to learn, reason, and decide. AI chips need immense computing power for deep learning in which a computer processes large quantities of data. That creates the need for strong processors. Nvidia's (NVDA) GPUs (graphics processing units) accelerate Intel (INTC) processors' computing speeds to enable them to handle AI workloads.
Article continues below advertisement
AI chips also need a large amount of non-volatile memory to accumulate the data. That's driving demand for 3D (three-dimensional) NAND (negative AND). Micron Technology (MU) and Samsung Semiconductor (SSNLF) benefited the most from increasing memory demand. Micron even topped the list of semiconductor companies with the highest revenue growth in 2017.
The computing complexity of AI chips is also driving manufacturing innovations. Instead of smaller chips required by PCs (personal computers) and smartphones, AI chips are larger in size. That could drive capital spending and create an opportunity for SME (semiconductor manufacturing equipment) suppliers. Thus, AI chips could create an opportunity for both chipmakers and SME suppliers.
Democratization of AI
As we move to a data-centric world, everything could generate data. But data alone cannot add value unless it is processed. AI chips could process large quantities of data and enable software to find patterns and make inferences. Such computing power could see the adoption of AI chips inside hyperscale servers, autonomous cars, robotics, drones, smartphones, and IoT devices such as security cameras.
Apple (AAPL) has already bought AI capability in its A11 processors used in its iPhone X. Cloud companies Google (GOOG) and Amazon (AMZN) are using Nvidia's GPUs for AI tasks such as voice and image recognition.
This AI capability of training and inferencing can be used across various verticals, including finance, healthcare, energy, and cybersecurity. Nvidia is also looking at democratizatizing AI by providing GPU computing capabilities on the cloud. That would enable small firms to develop AI applications without investing in high-performance computing hardware.
UBS analyst Bill Lu stated that the democratization of AI could lead to a new growth phase in semiconductors. He expects the AI chip market to grow sixfold from roughly $6 billion in 2016 to $35 billion by 2021.
Next, we'll see which semiconductor companies could be the key beneficiaries of the AI revolution.