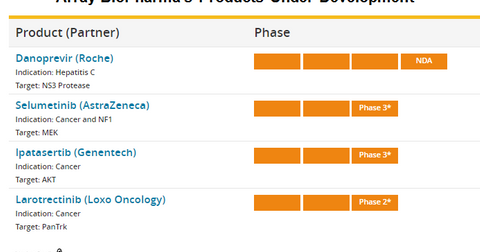 Array BioPharma's Promising Drug for Colorectal Cancer
By Kenneth Smith

Jan. 31 2018, Updated 7:36 a.m. ET
Key event to watch
In 1Q18, the FDA (U.S. Food & Drug Administration) accepted for review two NDAs (New Drug Applications) for the use of the combination of binimetinib and encorafenib for the treatment of patients with metastatic melanoma. The FDA has set a target action date under the Prescription Drug User Fee Act (or PDUFA) of June 30, 2018, for both applications, which is a key event to keep an eye on.
Metastatic melanoma is a life-threatening form of skin cancer associated with low survival rates. According to Array BioPharma, there are about 200,000 new cases of melanoma diagnosed worldwide every year. Approximately half of these diagnoses have BRAF mutations, an important target for treating metastatic melanoma.
Article continues below advertisement
BEACON CRC Phase 3 trial
The BEACON CRC is a global Phase 3 trial in which the investigational combination regimen of encorafenib and cetuximab, an anti-EGFR (epidermal growth factor receptor) antibody, is being compared against the standard of care in patients with BRAF-mutant colorectal cancer (or CRC) who have previously received first- or second-line systemic therapy. BRAF-mutant CRC is a subtype of colorectal cancer that impacts 10%–15% of CRC patients.
On January 22, 2018, Array BioPharma announced data from the trial, which showed a median progression-survival rate of eight months and an overall response rate of 48%. This progression-free survival rate is more than the historical benchmark of about two months for median progression-free survival and four to six months for median overall survival with the current standard of care.
According to Array BioPharma, colorectal cancer is the third most common type of cancer in men and the second most common in women worldwide.
Article continues below advertisement
Clinical trials for MSS CRC
Array BioPharma is collaborating separately with Bristol-Myers Squibb and Merck to study binimetinib plus anti-PD-1 therapy in patients with MSS (microsatellite stable metastatic) CRC.
Array BioPharma initiated a clinical trial in partnership with Bristol-Myers Squibb (BMY) in September 2017 to evaluate the safety, tolerability, and efficacy of binimetinib in combination with Bristol-Myers Squibb's opdivo, and opdivo with ipilimumab in patients with advanced MSS CRC having a mutation and who have received one or two prior lines of therapy.
Array BioPharma's clinical trial in collaboration with Merck & Co. (MRK) is for investigating the safety, tolerability, and efficacy of binimetinib and Merck's Keytruda as part of novel regimens in oncology. The trial is expected to help establish the recommended dose regimen and explore preliminary anti-tumor activity of the combination.
Array BioPharma makes up 0.39% of the iShares Nasdaq Biotechnology's (IBB) total portfolio holdings.
In the next part of this series, we'll take a look at BioPharma's ARRY-382 and ARRY-797 programs along with some key risks facing the company.