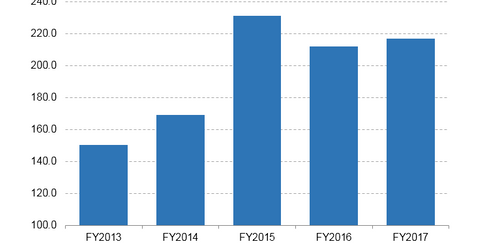 Why Apple's iPhone Sales Growth Might Accelerate in 2018
By Ruchi Gupta

Updated
iPhone unit sales jumped 2.0% in 2017
Apple (AAPL) sold 216.8 million iPhones in its fiscal 2017, an increase of 2.0% over fiscal 2016. The progress in 2017 marked a rebound for Apple in its smartphone business given that iPhone sales fell 8.0% in 2016. What will the future hold for the company in 2018? According to one Wall Street firm, Apple's iPhone sales growth might accelerate this year. Analysts at UBS see iPhone sales in 2018 growing 10% over 2017 sales, according to a research note by CNBC.
Article continues below advertisement
The iPhone X is boosting sales
Apple's smartphone business is expected to get a boost from the new iPhones that were launched in the last quarter of 2017. The new iPhones include the flagship iPhone X, a device that features significant design upgrade over previous iPhone models.
Nevertheless, the 10% iPhone unit sales growth that UBS forecasts for Apple this year represents a lowered outlook because the firm originally predicted that iPhone unit sales would grow 12% in 2018. UBS cut its iPhone sales forecast to 10% from 12% after results from its UBS Evidence Lab Smartphone survey showed muted demand for iPhones.
But an RBC Capital report that came out later said there was strong demand for the iPhone X in key markets such as China (MCHI).
Apple stock jumped 46% in 2017
The iPhone is Apple's primary source of revenues, so demand for the product is something that investors watch closely. In 2017, the year that iPhone sales rebounded, Apple stock gained 46.1%. Stocks of Google parent Alphabet (GOOGL), Microsoft (MSFT), and Sony (SNE), some of Apple's smartphone competitors, gained 32.9%, 27.7%, and 60.4%, respectively, in 2017.