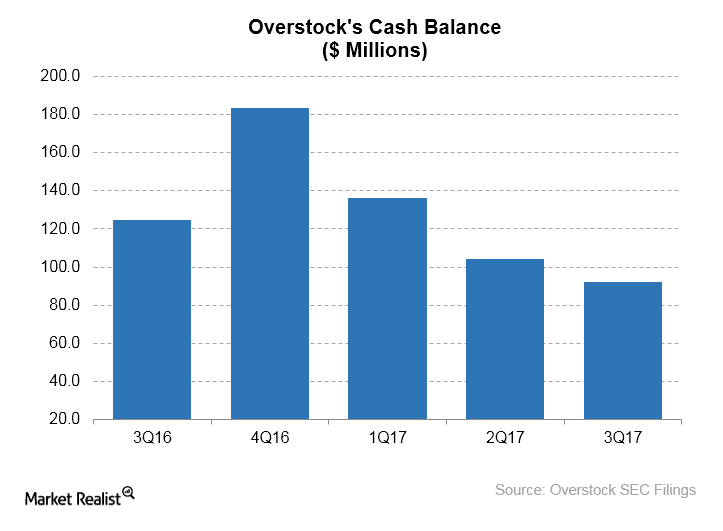 Appetite for Blockchain Could Transform Overstock
The CEO and family owns 40% of Overstock
As its interest in cryptocurrency and blockchain technology grew, Overstock (OSTK) created a division called Medici Ventures, which is focused on blockchain investment. While Overstock is primarily an e-commerce company, Medici Ventures is its incubator of blockchain technology.
Patrick Byrne, the CEO of Overstock, is exploring options including a sale of the company to raise funds for blockchain venture, the Financial Times reported. Byrne and his family are said to own 40% of Overstock, which includes the e-commerce operation and the blockchain investment arm.
Article continues below advertisement
Blockchain or e-commerce?
The Financial Times reported that Byrne may wish to sell Overstock to raise capital for a new venture focused on creating a blockchain-based global property registry.
The other option that Byrne has explored is to dispose of Overstock's online retail operation to raise the required capital. A sale of the e-commerce unit could also take pressure off Overstock in the e-commerce industry that Amazon (AMZN) continues to disrupt.
Going fully blockchain
Divesting the e-commerce business would leave Medici Ventures as Overstock's central operation. It is through Medici Ventures that Overstock invested in cryptocurrency exchange operator tZERO, which recently launched a $250.0 million ICO (initial coin offering).
Overstock had a cash balance of $92.3 million at the end of 3Q17, compared with $24.3 billion for Amazon, $6.0 billion for eBay (EBAY), $1.1 billion for Ross Stores (ROST), and $638.7 million for Groupon (GRPN) during the same period.