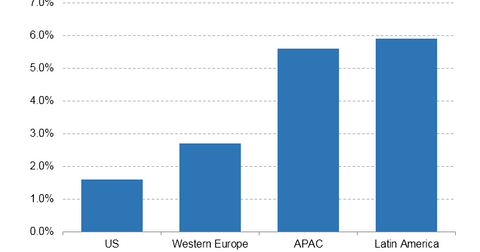 How APAC Compares with Alphabet's Other Regions
By Neha Gupta

Updated
US revenues increased 21%
Alphabet (GOOGL) breaks down its revenue sources by regions into four categories: the US (SPY), EMEA (Europe, Middle East, and Africa), APAC (Asia-Pacific), and Other Americas, which includes Canada and Brazil (EWZ). The US is Alphabet's top region by revenues with over $12.9 billion from the US in 3Q17. Alphabet's US revenues grew 21% YoY (year-over-year). The US accounted for nearly 47% of Alphabet's total revenue in 3Q17.
APAC outpaced the US in revenue growth
APAC is Alphabet's third-largest region by revenues. Alphabet's revenue from APAC totaled $4.2 billion, up 29% YoY in 3Q17. Specific markets that contribute to APAC revenue include Japan (EWJ), where Alphabet opened its first international office, China (MCHI), Australia, and India (INDA).
Although Alphabet's Internet search services are banned in China, the company still sells ads in the country, as it helped Chinese businesses to connect with overseas customers, and in this space, it is battling for advertiser attention against the likes of Baidu (BIDU) and Alibaba (BABA).
Alphabet pulled $9.1 billion in revenue from EMEA in 3Q17, an increase of 23% YoY. The company hopes this growth will speed up as its Africa investments. Alphabet's Other Americas revenue grew 33% YoY to $1.5 billion in 3Q17.
APAC ad market growing faster than US ad market
APAC was one of Alphabet's fastest growing regions in 3Q17. The company is hoping for more growth in the APAC region. One of its senior executives recently disclosed that he was spending a lot of his time in the APAC region trying to deepen Google's penetration in the region.
Google's chief business officer (or CBO), Philipp Schindler, said at a Credit Suisse technology conference recently that he was excited about APAC. According to research firm Magna Global, APAC is one of the fastest-growing advertising markets. APAC's advertising market is estimated to have expanded 5.6% in 2017 compared with the 1.6% expansion of the US advertising market as illustrated in the chart above.