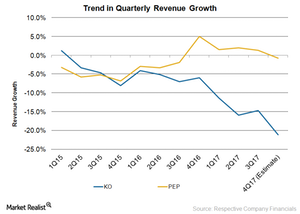 Do Analysts Expect Revenue to Improve for Coca-Cola and PepsiCo?
Revenue trend
Coca-Cola's (KO) revenue has declined for ten straight quarters for several reasons. They include weak volumes, adverse currency fluctuations, and the impact of structural changes (mainly refranchising of bottling operations). PepsiCo (PEP) has delivered revenue growth for the past four quarters after reporting lower revenue for several quarters.
Article continues below advertisement
Performances in the previous quarter
Coca-Cola's revenue fell 14.6% to $9.1 billion in 3Q17, mainly due to the impact of refranchising of the company's bottling territories. Excluding the impact of structural items and currency headwinds, Coca-Cola's organic revenue grew 4% in 3Q17.
PepsiCo's revenue grew 1.3% to $16.2 billion in 3Q17, driven by higher pricing. The company's organic revenue grew 1.7% in 3Q17.
Revenue expectations
Analysts expect Coca-Cola's revenue to decline 21.1% to $7.4 billion in 4Q17. The impact of structural changes is likely to affect its top line that quarter. Analysts expect PepsiCo's revenue to fall 0.7% to $19.4 billion in 4Q17. For 2017, analysts expect Coca-Cola's revenue to decline 15.8% and PepsiCo's revenue to rise 1%.
As we saw in Part 1 of this series, Coca-Cola and PepsiCo are working to offer new and better soda options to consumers. They're also expanding their still or non-carbonated beverage portfolios. Coca-Cola is expanding its still beverage offerings through internal innovation and bolt-on acquisitions. Some of its strategic acquisitions include Unilever's AdeS plant-based beverage business, a minority interest in Nigeria's Chi Limited, and most recently the acquisition of Topo Chico premium sparkling mineral water in the United States.
Despite the positive impact of higher pricing and innovation, weak soda volumes could continue to be a drag on the revenues of Coca-Cola and PepsiCo.
We'll look at the shareholder returns for these companies in the next part of this series.